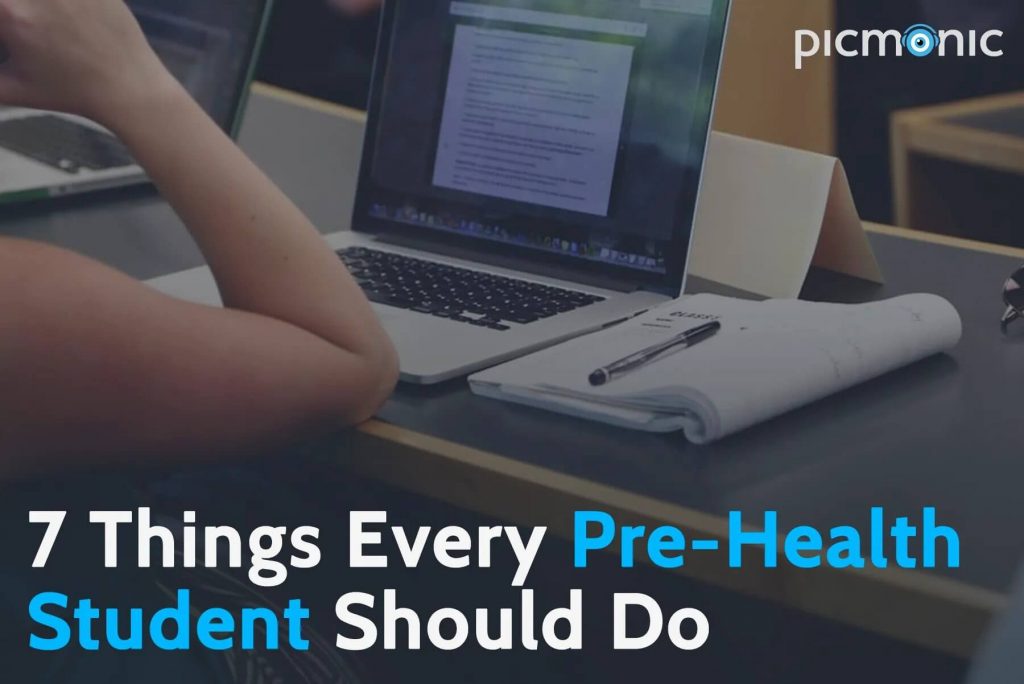 A college career in pre-health is a whirlwind of studying for the MCAT and then worrying about what you scored on the MCAT. But it doesn't have to be all worry and no play! Picmonic is a visual study guide that's fun and helps you learn more in less time so you can do… well, all that other stuff you need to do!
But, what exactly do you need to do to make the most of a pre-health college career? We've got the seven most important things right here!
Know It Doesn't Matter What Your Major Is
Are you interested in the medical field and helping people live a better life? Did you find this out after majoring in Poetry or Theatre? That's totally fine. You don't have to be a biology major to say you're on the path to pre-health. The most important part of being pre-health is passing the MCAT, so you can take the science classes you need and study with Picmonic to prepare, but still major in just about anything you want.
Get Your Game Plan
While you don't have to major in a science or a university's pre-health program to go into the medical field, going into a pre-health program is typically something you decide long before you graduate. There's a lot to be done before you take the MCAT, so creating a plan and sticking to it is key. Decide you're taking the MCAT early and check-in often with your advisor to ensure you're making the right choices towards your ultimate goal.
That Reminds Us… See Your Advisors
Advisors are there for a reason. Sometimes it's hard to put together that game plan if you're not sure what you're doing. A pre-health advisor will point you in the right direction, help map your college career, and introduce you to the tools, volunteering opportunities, and classes you need to boost your test scores and help your med school or postgraduate applications stand out in a crowd.
Be Ready to Mingle
No matter what you decide to do after taking the MCAT, you'll find that the medical field relies on strong communication skills. While in school, find ways to get out in your community and make a difference while you learn how to work well with others. Volunteer, join a club or land an internship to get the fundamentals of teamwork – and the earlier you start, the better. Learning how to work with others is a lesson that you'll use no matter what the profession.
Have Other Things to Do
Having other interests is essential for a full, well-rounded life. Medical schools, postgraduate opportunities, and even some internship programs like to see that their applicants are passionate about the things they love. Don't be afraid to join a club for a non-medical hobby. It's good to show versatility and have a little fun!
Take Initiative
Get comfortable taking matters into your own hands and putting yourself out there to network and be successful. This means things like joining in on class discussions so professors know who you are (and are more willing to write your recommendations) or picking up the reins on a project to gain more experience as a leader. It also doesn't hurt to keep in touch with your advisor so you always know about new opportunities that can boost your career. A little initiative now can pay off big in the end.
Have a Love for the Game
Being pre-health is a lot of work. Fun, interesting work, but work nonetheless. Don't study up for the MCAT just because your parents want you to or you think it's the right thing to do. If you don't love learning about science and medicine, you probably won't enjoy practicing it for the rest of your life. Before you bunker down with your books, take a moment to think about your life goals and if besting the MCAT is truly one of them.
Pre-health is a varied and interesting path that can lead to some amazing career opportunities! No matter which direction your pre-health college career takes you, studying for the MCAT can be made fun (and test scores 50% higher) with Picmonic's visual learning guide. Want to see for yourself? Get your free Picmonic for Pre-Health trial today!
---

Download our mobile app and take Picmonic on the go!




(Visited 364 times, 1 visits today)