Nursing school isn't easy, but we've got three amazing resources to make life a little better!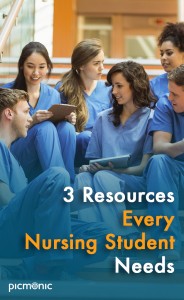 Resource 1: Mobile Study Guides
Get ready to ace your exams in nursing school and pass the NCLEX® the first time! Check in daily with apps like Netter Anatomy and Picmonic which are available on mobile.
Then, take advantage of Picmonic's free Question of the Day.  This is an excellent nursing study tool where you can answer an NCLEX®-style question daily to help you prepare for that timed test you'll face at the end of nursing school.
If you want a good resource for reviewing the important content that you need to know to perform better on select-all-that-apply questions, or you just want a way to learn that's truly unforgettable, sign up for Picmonic!
More than just visual flashcards, Picmonic will help you review over 1,000 key nursing topics and 11,000+ facts in a fun, memorable way. Sign up for a Picmonic account so you can take our illustrated nursing study aids for a spin. Covering every subject a nursing student must know — Fundamentals, Pharmacology, Med-Surg, Anatomy, Physiology, Pediatrics, Obstetrics, and more!
Resource 2: Webinars
Wondering how to remember everything you need to know for Pharmacology? Or maybe the cardiovascular system? We've got the tips and tricks you need! Kendall Wyatt, MD, RN and Marlee Liberman, RN host webinars about a huge variety of nursing topics.
Think of webinars as powerful NCLEX® study aids for nursing students. They're an excellent way to absorb a ton of important information quickly. Nurse Wyatt and Nurse Liberman have successfully made their way through nursing school, clinicals, and the NCLEX®. Now they're ready to pass their knowledge onto you!
Check out our recorded webinars here.

Resource 3: Picmonic for Nursing
Picmonic for Nursing takes the information you are required to know for nursing school and turns them into fun, memorable stories that help you learn and remember long-term.
Choosing a Picmonic Playlist daily will help you better understand the topics you study in class. Additionally, each "Picmonic" also features a multiple-choice quiz so you can test your knowledge and make sure you're on the right track.
Afterwards, with our  "spaced repetition" Daily Quiz that intelligently adjusts to fit your learning needs, you'll remember everything you need to know for the HESI and the NCLEX® come test day. Sign in today to access our Picmonic Playlists, that make studying faster and easier than just reading your textbook. Bonus: it's way more fun!
Whether you are studying Med-Surg, Acid-Base Imbalances, or Microbiology, our visual mnemonics are research-proven to help you retain information up to 331% longer. That's pretty much the ultimate nursing NCLEX® study aid.
Nursing school is tough, but you can make it easier with these awesome resources. Sign up for Picmonic to get a daily quiz, plenty of topics to choose from, awesome webinars, and resources that will put you at the top of your class! If you have any questions, contact us anytime at feedback@picmonic.com! We'd love to hear from you :)  

(Visited 4,317 times, 2 visits today)