All soon-to-be nurses know the NCLEX® can be a little overwhelming to think about. You might want to wait until later to study for the NCLEX®, but don't! The more you procrastinate, the harder it will be to get into study mode and, consequently, the more difficult it will be to pass the NCLEX ®.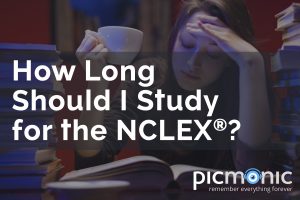 If you're looking for a way to study for the NCLEX® that keeps you interested while helping you learn more, use Picmonic's nursing mnemonics to be your study buddy as you gear up for the big exam! Picmonic uses mnemonic study guides that are scientifically proven to make learning easier -and fun- so you can retain up to 331 percent more than just studying with your notes.
But how long should you study for the NCLEX® and what's the best way to study if you really want to do well on your exam? Read below for some tips from Picmonic on how to get the best possible NCLEX ® score.
Study Timelines Will Vary- A Lot!
There's no 100 percent clear answer to how long you need to study before your exam. Needs will vary based on things like schooling, prior knowledge, and learning styles. In general, the earlier you start studying the better. At Picmonic, we recommend you begin studying at least two or three months before your scheduled NCLEX® exam. This gives you enough time to get into a routine and figure out what you really need help with. Plus, it's ample time to breeze through our mnemonics for NCLEX® that let you focus on what you really need to know before the NCLEX®. No matter the topic; from respiratory infections to med-surg, we have you covered. Try it for yourself to see what a difference a system of learning, reinforcing, and reviewing can make! Sign up to start using Picmonic for free!
SET YOUR STUDY SCHEDULE WITH PICMONIC
Be Honest with Yourself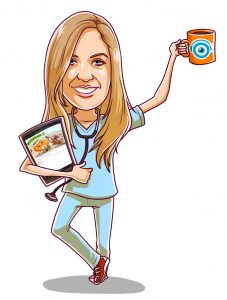 Sometimes, we want to put off studying for the week and we tell ourselves, it's fine, I have the whole weekend to study for the NCLEX®! But, let's be real; are you actually going to study every weekend all weekend? Probably not…even if you are using something fun like Picmonic for Nursing, that uses unforgettable characters and stories that are more enjoyable than a set of nursing flashcards and a textbook. To do well, you need to set a schedule and really stick to it, whether it be for an hour daily or a few hours a couple times a week. It takes a lot of discipline, but creating a study schedule you can actually follow is the first step to passing the NCLEX®. And if you're using a book such as the popular Lewis Med-Surg, you'll find we've mapped mnemonics for nursing students to each page, turning your book into an audio-visual mnemonic study guide! Try it out with the toughest topic you're struggling with so you can really see the results!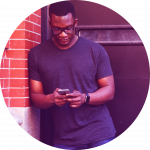 Reduce Your Stress
While you can't predict what questions you'll face on the NCLEX®, smart preparation can help build your confidence. Picmonic's Daily Quiz with Spaced Repetition automatically adjusts based on the Picmonics you've learned and the ones you need more help with. This creates a daily study queue that will minimize the "forgetting curve" that can happen between school and Test Day. And Picmonic's personal dashboard offers a recommended list of the most important categories and topics for you to study next, based on your learning progress and quiz performance to date. Picmonic's on-the-go study tools like mobile apps, printable nursing flashcards, and infographics will let you study whenever and wherever you have to be, so you can make any moment a study moment.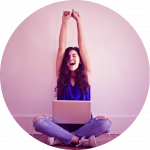 Use Your Newfound Confidence and Study for the NCLEX® and Ace Your Exam
With Picmonic, there's no need to be afraid of the NCLEX®. Picmonic has tons of awesome resources that will help you retain more and do better on your exams. Want to see what it's like to have 13,000+ facts at your fingertips? Sign up for Picmonic today and get learning –the fun way!
CLICK HERE TO TRY PICMONIC FREE

Download our mobile app and take Picmonic on the go!




Reference:
https://sonapps.unc.edu/current/counseling/NCLEX ®_study_schedule.pdf
https://www.qdnurses.com/NCLEX ®/2-study-plans-you-need-to-pass-the-NCLEX ®/
(Visited 946 times, 1 visits today)