When you're studying for hours on end, it's important to have a schedule and a fun way to cram facts into your noggin (hint-hint: videos!).
Picmonic uses images and stories to create the most effective NCLEX® test prep: the NCLEX® Picmonic Playlist! A ready-made study plan for nursing students, it's a great way to pace your study time as you review all of the essentials. Topics including Nursing Fundamentals, Pharmacology, Med-Surg, Anatomy, Physiology, Pediatrics, Obstetrics, Psychiatric, and more! So you can boost your test scores and fill in knowledge gaps in an entertaining way.
Sign up for Picmonic for free now to remember more in less time!
But even with the best study buddy (or even the best nursing student study guide) sometimes, you just want to sit back and take a little break. There's a way to do that while still learning!
Picmonic has a YouTube channel chock-full of super useful videos for nursing students that can help you raise the test curve while staying entertained.
Don't worry about combing through to find what videos you need to watch before the NCLEX®. We already did the hard part for you. Now you just get to sit back, relax, and learn.
Video 1. How to Pass the NCLEX® with Nurse Marlee: Test Anxiety Edition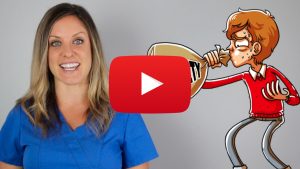 You're not alone! Test anxiety is a real thing and even though Picmonic Playlists are super helpful visual study aids for nursing students who are studying for boards, Picmonic still receives loads of emails asking how to fix their NCLEX® test anxiety. Nurse Marlee is here to remind you that test anxiety is a frame of mind you can overcome with a little bit of concentration and clever tips in this video.

Video 2. Mastering NCLEX Style Questions: The Nursing Process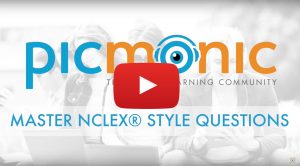 Dedicated Picmonic user (and Picmonic Content director) Kendall Wyatt, MD, RN, has an entire nursing student webinar dedicated to mastering those NCLEX® questions we all know and loathe. Plus, Wyatt will introduce you to a Picmonic favorite visual mnemonic: Respiratory Elk-Loser (but you may learn to remember it later as Respiratory Alkalosis…).
Video 3. How Picmonic Helps You Dominate Select All that Apply Questions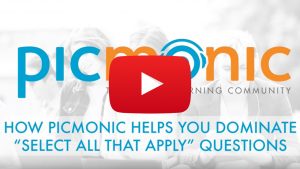 Select all that apply questions are the hardest of the bunch when it comes to studying for the NCLEX®. It's understandable that you may stress over it. But now, thanks to Kendall Wyatt, RN, and Picmonic, you don't have to! Wyatt is back on the list with this straight-forward webinar video that takes the mystery out of the scariest part of becoming a nurse. Okay, what seems like the scariest part of becoming a nurse.

Video 4. Fundamental Concepts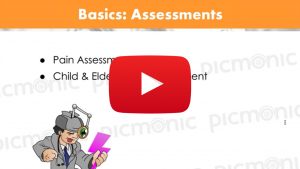 Let Kendall Wyatt, MD, RN, take you through nursing school basics in a fun yet educational way with this video. Starting with the nursing fundamental concepts video means you'll have a great foundation for learning as you climb the ranks in school and eventually take the NCLEX®. You'll see how easy Picmonic makes studying when Wyatt shows how to remember ADPIE with Picmonic.
Video 5. Pharm: Know Your Endings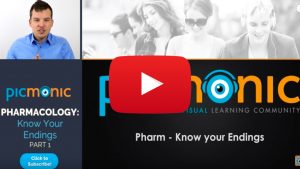 In this helpful video, Kendall Wyatt MD, RN will help you understand how using drug endings can help you master Pharmacology faster alongside Picmonic's research-proven learning system. Beta Blockers, ACE-Inhibitors, and Calcium channel blockers, oh my! Watch Part 1 here, Part 2 here, and finally Part 3! Then, dive right into Picmonic's Playlist for Pharmacology Basics — one of many essential study aids we provide to ensure efficient nursing student study time.
These videos are just the beginning!
Picmonics are the "visual mnemonic" flashcards that help nursing students always remember important facts about the Cardiovascular System, Endocrine System and more, to pass the NCLEX® the first time. It's the ultimate study buddy. Try Picmonic Free to get all the benefits like learning more in less time and you know, an awesome NCLEX® test score when Picmonic helps you learn over 1,000 nursing topics and 11,000+ quiz questions with spaced repetition. Sign up today!
---

Download our mobile app and take Picmonic on the go!

(Visited 2,965 times, 1 visits today)