Our top 5 tips for succeeding in nurse practitioner school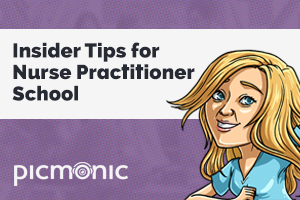 So, you're thinking about starting nurse practitioner school. Couldn't be any different than nursing school, right? Well, think again. NP school is an entirely different ballgame, and we're not just talking about a new nurse practitioner study guide. Here are our insider tips for nurse practitioner school on things to know, and what to wrap your head around before the adventure ahead.
Tip #1: Figure Out What Kind Of Learning Suits Your Needs
Think sitting on your couch in your jammies and attending NP school online seems too good to be true? Well, it just might be. Many NP students feel that attending NP school online requires a vast amount of time essentially teaching yourself the material. Especially since the sense of community may be lacking in the online world versus the campus-based student-to-student or student-to-professor connections.
This is fine for the disciplined and self-motivated students, but for others, it may be more of a struggle. Leaving you to find your own study tools for nurse practitioner students.
Evaluate all of your options before deciding, and figure out which kind of program suits your needs.
Tip #2: Find Preceptors Early, And Have A Plan B
This is a pain point that is not always talked about. Many schools require students to find their own clinical placements and preceptors. You may be left to your own devices, essentially cold-calling clinics to see if you can find a preceptor who will take you on for no compensation.

Not only that but oftentimes, students will have to set these placements up far in advance (sometimes even a year). And then there could be last-minute changes (position transitions, offices closing, maternity leave, etc.) leaving you to start again at square one.

And, the cherry on top of that; no one vets these preceptors to make sure they are educating students with proper training. Meaning issues of quality control come into play. You don't know what kind of training you will be getting yourself into, which may be a bit of a gamble.

Think about this before applying to your NP program. Research if the school will be providing placements for you, or if you will be arranging your own preceptorship. Definitely have some backups on hand, because you never know what could happen at the last minute.

Tip #3: Begin and Leave With A Good Impression
Remember tip#2, about finding your own preceptor? If that's the case, you'll be having to rub shoulders with anyone who can help you get a foot in the door. Think of every interaction you have in and outside of NP school as an interview. For this reason, turn yourself into a networking butterfly, and embrace new relationships on the way.

It doesn't end once you've landed a preceptor. The connections you are making could be the direct line to your next job, so make sure you are leaving good impressions everywhere you go.
Preceptors make great references, let them know how grateful you are to have the opportunity to be learning from them (who doesn't love chocolate and a "thank you" card?). Prove yourself worthy by working hard.

Tip #4: Be Prepared To Soak Up Your Learning Like A Sponge
If you are considering NP school, realize that the experience is the time where you should be taking every opportunity you have to learn, learn, learn. Ask as many questions as you can possibly think of. Be prepared to supplement your learning with extra research.
Remember, you will be there to learn how to be the best provider you can possibly be. And it will be the one time that you will have the space to do just that, so take advantage!

Since there will be a constant inflow of new information,  your brain will need to be in constant training mode, just as if you were training for a marathon (because basically, you are!) Using study aids to consistently review material is extremely important, but it doesn't have to be a nuisance.
Picmonic for Nurse Practitioners is a study tool to review material that is not only engaging and fun, but the use of picture mnemonics or mnemonics flashcards can make studying also fast and efficient. This allows you to have extra time for that much-needed R&R on your time off from school and clinicals.

Tip #5: Remember Why You Are Doing This In The First Place
Going forward, understand that there are going to be times where you will want to just throw everything on the floor and cry like a little baby. And hey, we won't judge you if you do. You knew this wasn't going to be a picnic in the park. But these moments are the points where you need to remember your original intentions. Write them down and keep them with you. Because in these moments of chaos, you'll look at your intentions and remember why it's all going to be worth it.
There was a reason for all this stress and discomfort. At the end of the tunnel, there will be many opportunities to serve the greater good, all while enjoying the personal benefits as well. Keep your head up, and know that we are cheering for you over here on our end.

We hope these insider tips for nurse practitioner school helped!
Think you're ready to give it a shot? Try Picmonic for free today to get a sense of what may lie on the journey ahead, and what you'll need to survive nurse practitioner school!
(Visited 99 times, 2 visits today)