Our USMLE ® Step 1 Survival Kit got such rave reviews from our subscribers, that we just couldn't help ourselves. We had to make it available to the rest of the world! Check it out:
1) Picmonics for USMLE ® Step 1 and ourUSMLE ® Step 1 Study Guide
Use our newly updated 3 or 6 month plan to say hello to a 240+! Click here. 
2) Picmonics for USMLE ® Step 2 CK  and our USMLE ® Step 2 CK Study Guide
Prep for Step 2 in 30 days with our easy-to-follow, customizable plan. Plus, get full access to our Step 2 Playlists AND First Aid for the USMLE Step 2 Playlists, enabling you to follow our study guide and follow through First Aid page by page! Click here. 
3) Infographics Pack
Our illustrators have turned 20+ of the toughest concept maps in medical school into Picmonified infographics that will help you keep all of the topics straight! Click here. Here's a list of every infographic that's included in this pack:
Parasitology: Protozoa

Paraneoplastic Syndrome

Immunodeficiencies

Renal Tubular Acidosis

Multiple Endocrine Neoplasia

DNA Viruses

RNA Viruses

Vasculitides

Glomerular Disorders

Mycology

Parasitology: Helminths

Electrolyte Abnormalities: Hypokalemia

Electrolyte Abnormalities: Hyperkalemia

Electrolyte Abnormalities: Hypernatremia

Electrolyte Abnormalities: Hyponatremia

HIV Susceptible

Gram Positive

Gram Negative

Anemia

Common Causes of Pneumonia

Common Causes of Meningitis

Acidosis

Hypersensitivity

ACLS Pathway

Not sure if Picmonic will help you through med school? Just read these testimonials from students who've been there: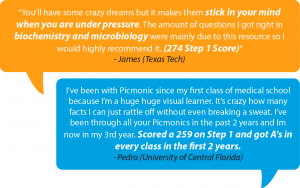 What are you waiting for
(Visited 394 times, 1 visits today)