Why use Picmonic to improve your test scores?
Get your life back by studying less and remembering more. Medical and Nursing students say that we're the most comprehensive and effective way to bridge learning and test prep.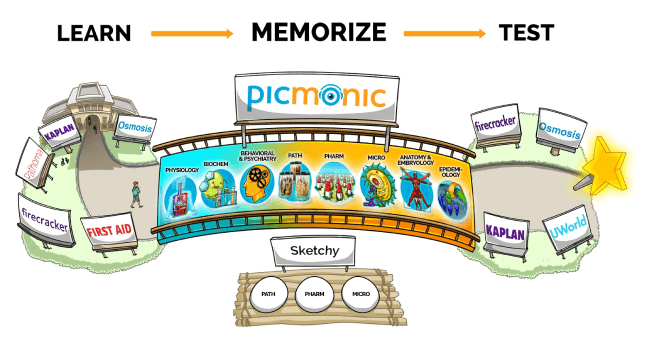 Lots of tools will help you learn, review and practice test questions. But do they increase your retention, make your preparation time count, and boost your exam performance?! When you walk out of lectures, are the details cemented in? They will be if you built a foundation with Picmonic (memory) and then practiced with qbanks (application).
How do I use Picmonic's concise coverage of facts to improve learning throughout school?
Picmonic is there for you from day one through your licensing exam and into clinical practice.
Start early so the Spaced-repetition-based Daily Quiz can automatically adjust to increase long-term retention.
Picmonic's Home Screen will respond to your areas of strength and weakness, and recommend "Picmonics" to study.
How do I use Picmonic alongside my books & question banks to improve retention?
Watch Picmonic's concise 2-4 minute videos BEFORE lectures to create a "mental scaffold" - ie memory anchors. You are creating a filing cabinet for your brain!
Then layer the deep medical information onto this scaffold with books, lectures and videos from Osmosis or OnlineMedEd.
Use Picmonic recall quizzes after lectures to ensure what you learned sticks - it's never too late to lock in the details.