How do you remember the anemias in medical school?
This anemias infographic will imprint them in your mind forever!
Med School Anemias are one of the toughest groups of topics to master in med school. Which ones are normocytic, microcytic, or macrocytic? And what the heck is sideroblastic anemia? If you struggle with keeping all the anemias straight in your head, don't worry, you're not alone. So we created an anemias infographic: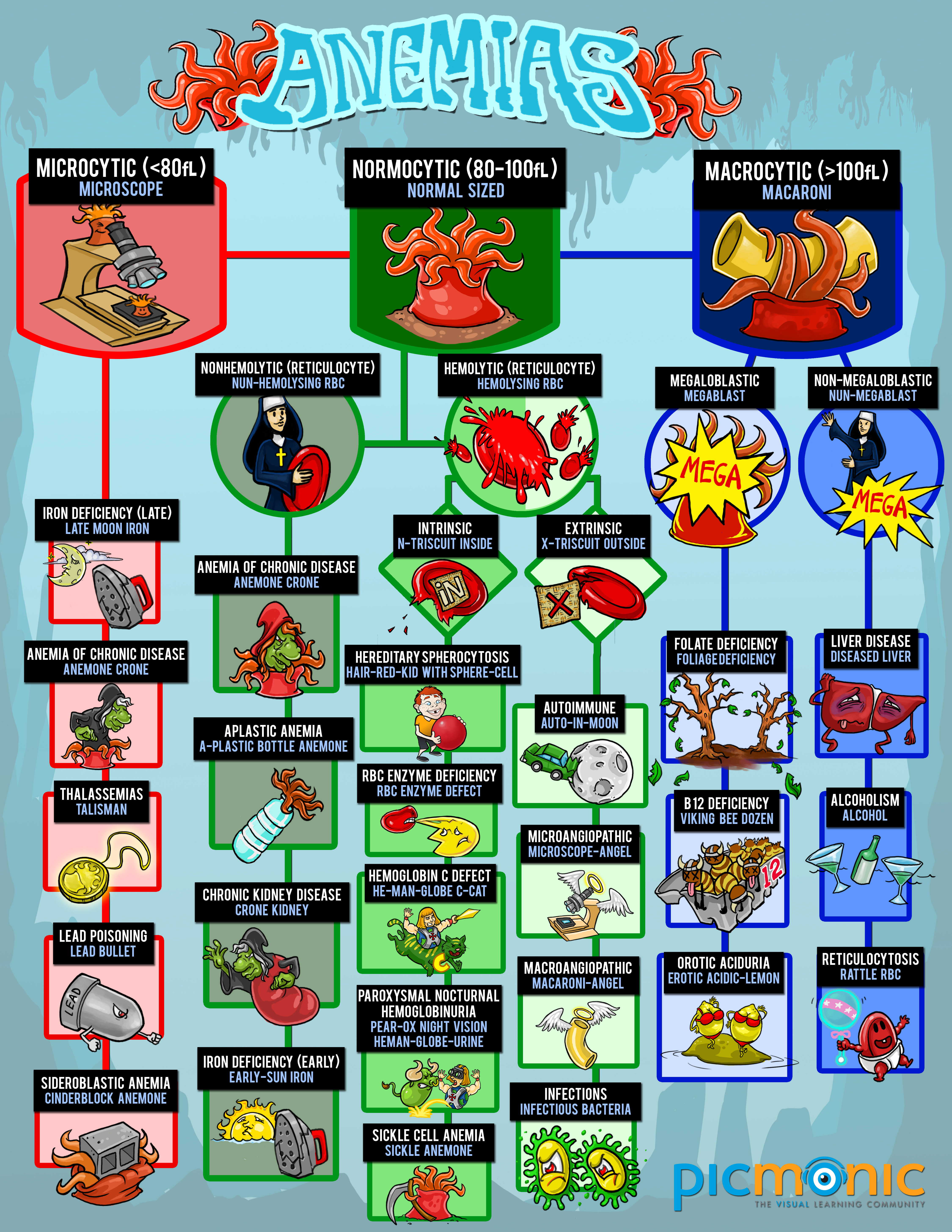 Using Picmonic can give you longer memory retention and turn this dreadful rote memorization task into a fun audiovisual exercise.
Start by learning the Picmonic concepts for each type of anemia. Our awesome illustrators aggregated all of the Picmonic anemia topic characters into the infographic above. Think of it as a "Pic-tree". This helps you visually connect all the anemias together in a way you will never forget. While each concise Picmonic video and Spaced Repetition quiz helps you master the information from the bottom up, the Pic-Tree helps you master the topics from the top down.
This way, no matter what kind of question they throw at you, you'll be able to identify the right answer with ease. Hopefully, by now you have learned all the anemia Picmonics. If you haven't, what are you waiting for? You can learn one free a day and answer 20 quiz questions. Plus, it only takes about 10 seconds to sign up for a free account.
Treat yourself to an afternoon full of hilarious and memorable stories while mastering all the annoying little anemia details with ease with Picmonic Playlists.
JOIN PICMONIC FREE
---
Curious what other medical student infographics you can use for free?
1) ACLS Pathway
2) Common causes of Meningitis
3) Gram-negative & Gram-positive bacteria
20+ more are available with a Picmonic Free account! Check them out in the resources center inside the Picmonic app.
---
Download our mobile app and take Picmonic on the go!



(Visited 3,574 times, 1 visits today)