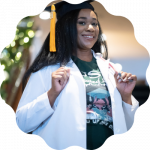 Pediatric Nurse Practitioner and social media influencer, Jenean Sampson shares her go-to strategies for studying for the PNP Exam.
She discussed her go-to tools, tips for understanding material, must-do study habits, and why it's never too early to start preparing for your Pediatric Nurse Practitioner board exam. And, she wrapped up the session with a Q&A.
Watch now! ► ► ►
Strategies When Studying for the PNP Exam
Looking for a quick summary of Jenean's strategies when studying for PNP? Here you go!
Learn the Material for Future Practice, Not Just the Exam
This makes answering and recalling the questions easier. Your goal is to master the content so you can care for other people's children, and knowing the material makes you a better provider.

Make a Chart of Common Diagnoses
The exam is going to test you on common diagnoses trending in healthcare at that time. Jenean mentioned she typically included the top three to five and drills down into those.
Take a Review Course
Start saving now. Review courses can be pricey, somewhere in the $300-500 range. Jenean mentioned the Fitzgerald Pediatric NP Review, Barkley & Associates PNP-CP Review, and the National Association of Pediatric Nurse Practitioners Exam Review.
As a bonus, Jenean also suggested purchasing the Pediatric Nurse Practitioner Certification Review Guide, which she still references even a year into practicing.
Answer Board-Style Questions—A LOT of Them
Jenean used Rosh Review's PNP-PC Certification Exam Qbank with 1,300 questions and BoardVital's Pediatric Primary Care Nurse Practitioner Board Review Question Bank.
Make a Realistic Study Schedule

Jenean took a month off to focus on study, but we understand this isn't possible for everyone. Regardless, studying will become a primary or second job for the month or so learning up to the exam, so it's important to get very intentional about what you're studying and how.
The Examination Content Blueprint is on the exam certification website. Using this blueprint, Jeanean determined what topics to focus on (typically the ones weighted more heavily on the test) and dedicate more time to studying high-yield content.
The week prior to the exam, she reviewed her questions and watched the Picmonics for difficult topics. Be sure to stick to the schedule.
Took Adequate Study Breaks
Burnout won't support success on the exam. And, Jenean reminds you to take care of yourself. Eat well. Get enough rest. And move your body.
Take a Mock Exam
The first time you take the PNP, or any board exam really, shouldn't be the day you're scheduled to take the test. Take a practice exam that closely simulates test day in advance. This will help you to truly understand the feel of the test, how to approach questions, and how to test within the time limits of the exam.
BONUS: Quick CPNP-PC Test Day Tips
Breathe, slow down, and read the question thoroughly twice paying attention to key phrases and words.

Consider "What is the question really asking me?"

Answer the question in your head prior to looking at the options.

Try not to second guess yourself—honor your gut.

Take your test during the time of day you are most alert and eat a healthy meal before.
Nurse Practitioner Student Resources (at the Click of a Mouse)
One of our favorite resources is, of course, is this webinar featuring an inclusive review of all the tools you'll need for success in NP school, and on your board exams!
---

Download our mobile app and take Picmonic on the go!




(Visited 2,117 times, 1 visits today)