Taking the leap to become a nurse practitioner is exciting…but also kind of exhausting and a lot of hard work! Signing up for Picmonic's mnemonic study guides will help you pass your NP board certification exam with flying colors. Picmonic has over 1000 key nurse practitioner topics and 10,000+ facts that will boost your test scores! However, it takes more than just a totally awesome and super helpful visual study guide to pass the ANCC or AANP. We gathered some basic (but important!) nurse practitioner exam prep tips to help you make the most of your study sessions. Let's take a look!
Know Your Timeline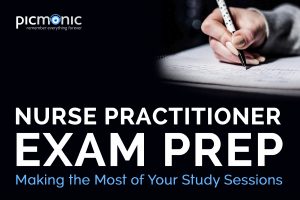 Use your planner to create a study schedule that projects six months out, starting in your last semester of school, so you know what to study and when for your nurse practitioner exam. Keeping track of when exams are scheduled allows you to create a study plan so you know how long you have to nail down specific sections. Sometimes a section might be a snap, but sometimes you might have trouble. It's important to keep that in mind in order to give yourself ample amount of time, whether you need it or not, to thoroughly review for your exam.
There's No Easy Way Out of Nurse Practitioner Exam Prep
There's no 'quick fix study approach' to taking your nurse practitioner exam. You can't magically become an expert in a day. It's hard work! You'll have to really dive into an FNP review, NP Pathology review, or NP Pharmacology Review. You'll need three months at minimum to study, but six is optimal.
If all this studying feels a little overwhelming, sign up for a free trial of Picmonic. Picmonic's mnemonic NP study guides let you review at a steady pace with Playlists that are actually designed to help the important stuff stick with you long after your exam is over! That's really good news for you, and also the patients you'll treat in the future.
Study Smart
The idea of studying is so great, right? Going to a quiet library or study hall, setting up all your books, nurse practitioner flash cards, and notes then maybe getting a snack and… checking social media and news for the first hour while you sort of glance over notes. Studying can't benefit you if don't put in a solid effort. Be proactive and choose a designated block of time for studying every week at first until you slowly transition to every day.
We know that sitting down to go over pathology, pharmacology, or licensing exam-specific review materials can be daunting. That's where Picmonic comes to the rescue! Picmonic's NP study guides make your study time super efficient and way more interesting than a set of nurse practitioner flash cards. Getting into a solid study routine is half the battle. The rest is easy… if you study with Picmonic.
Practice Makes Perfect
Taking practice exams may seem like a nuisance because they take all day and can be pricey, but they're always worth the hassle. A practice test is great nurse practitioner exam prep because a dry run has no pressure. It will give you a head's up on what to expect on the real nurse practitioner exam (sometimes the questions are even word for word the same!) and tells you what areas you need to improve on. If you also like smaller quizzes, Picmonic's algorithm will deliver a personalized daily quiz to you that only focuses on the things you really need to know, essentially creating a tailor-made study guide just for you!
Don't Break Your Brain
By now, your peers probably have told you nurse practitioner exam prep success stories as well as terrible tales about people who failed miserably. This can either make you want to work harder or completely break you down, depending on the day. While stress can motivate you, it can also turn you into a giant ball of worry that can't concentrate enough while studying to actually retain anything. Take a moment to breathe and stay positive. Go for a walk, listen to music, have a ten minute dance party, or just sit and concentrate on your breathing to clear your head when you need a time out. Not only is it good for your body, but in the end, you'll learn more that way.
Passing the NP board certification exam in your speciality area can seem daunting. But with our study tips and Picmonic's mnemonic study guides, you'll be on the path to success! Picmonic Playlists are filled with memorable stories and characters that allow you to learn faster and retain up to 331 percent more than just using nurse practitioner flash cards or your classroom textbook! Get started today with a free trial!
CLICK HERE TO TRY PICMONIC FREE
---

Download our mobile app and take Picmonic on the go!




(Visited 2,944 times, 1 visits today)