By Dr. Shehran Islam
As a physician, I'm ashamed to admit that I love McMuffins. However, the sweet, savory combination of flavors still reminds me of my undergrad days, and the pursuit of getting to McDonalds before 10:30, when the menu switches like the flip-board at a train station. I'm also familiar with the soul crushing defeat of making it to the restaurant at 10:31. Well, times are changing, and breakfast is served all day. The people are finally getting what they want, and rejoicing. Picmonic isn't blind to this trend.
Picmonic can be a useful tool to help you prepare for the USMLE. We've recently launched a new Playlist to help med students study for their USMLE Step 2. This Step 2 Playlist allows you to follow along, taking the route most suited to what you're studying at the moment. Clever, right?
Now, we're going to show you how to maximize this Playlist during your clinical rotations.
When you click on the Browse icon, click on "USMLE Step 2" from the toolbar.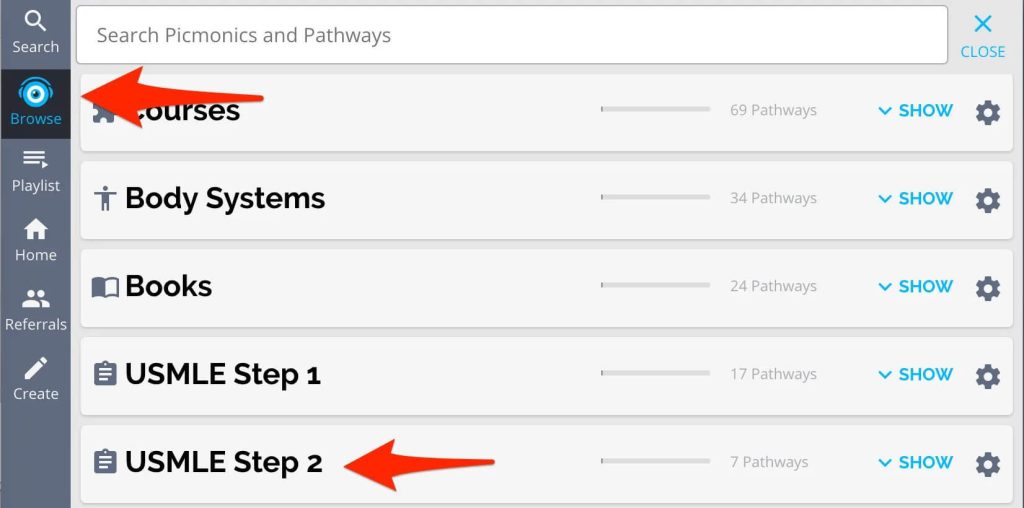 From here on, you'll see our information organized into rotation specific Playlists.
Pretend you're used to standing during rounds for 4 hours at a time and writing notes with problem lists spanning 3 pages by clicking explore for "Internal Medicine." We see the content for the Internal Medicine broken down by the organs this specialty is responsible for managing. Perhaps one of your patients has CLL, and you're definitely going to get "pimped" by your attending on the features of this disorder. Just scroll down to the track "Oncology" and sub-track "Leukemias" to learn about the characteristic smudge cells.
These Playlists are helpful for finding what you need quickly, but also helps organize all of the content we have pertaining to your specific rotation.
We make sure that when it's time for your shelf, you don't miss any of our applicable Picmonics.
When you're ready to review all of the pertinent information from your rotation, you can follow along with your favorite review book, because popular references like "Master the Boards" and "First Aid for USMLE Step 2 CK" are organized in a similar fashion to our Playlists. Just click on Books within Browse, and you're ready to follow through page by page. You can even review our tips on how to ace your USMLE prep.
In the end, you'll spend more time learning and less time searching. Less stress, and less confusion while navigating Picmonic. Think about all the extra time you'll have. It's beautiful, isn't it? You might even have enough time to cook for yourself! Hashbrowns for dinner do sound delightful, though.
(Visited 584 times, 1 visits today)