So here you are, with those shiny letters "RN" at the end of your name. You made it up that beast of a mountain. But wait! You see another, higher mountain to climb in the distance: the nurse practitioner school mountain. Your legs start revving up for action, but you can't figure out the path. How in the world do you get from here to there?

Why Should I Want to go to Nurse Practitioner School?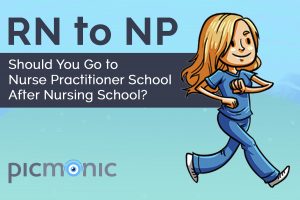 Okay, let's start with why in the world you would put yourself under so much more stress after you thought all this tortured schooling would be over. For starters, a nurse practitioner (NP) has an entirely different role than a registered nurse does. An NP delivers both nursing and medical care to patients and families. NPs can be independent providers. One of the big draws to becoming an NP is the autonomy that you can get from being able to assess, diagnose, and medically treat your patients, and in many places, NPs have the ability to have your their own private practice. Not to mention that nurse practitioners can make a pretty penny. Woweee.
But, as they say, with great power comes great responsibility. As an NP, you are the provider for your clients, so you better know your stuff. You'll have to delve deeper into the knowledge of medications, diseases, and conditions. Remember how much fun your Anatomy and Physiology class was? Well friends, embrace that knowledge back into your life like a long-lost frenemy because you'll need it in NP school.
START LEARNING FREE WITH PICMONIC
The Basics of Going to Nurse Practitioner School
So you've decided to take the leap. Now what? Let's break it down nice and simple for you:
1) Be a Registered Nurse (RN)
First, to attend nurse practitioner school, you need to be a *registered nurse (RN). Not an RN yet? Check out Picmonic for free and let us help you in your path to get there.
*Take note here: while many programs require a certain amount of experience as an RN before becoming an NP,  it is not always a requirement that you need to have been employed as an RN before going to NP school. The requirements depend on the program to which you are applying, so do your research. Keep in mind, however, that there are negatives to not getting the proper amount of experience as an RN before pursuing the path to becoming an NP.
2) Hold an Advanced Degree
Fast forward now; yay, you're an RN! Now to take a step towards becoming an NP, you need to hold an advanced degree, being either a Master of Science in Nursing (MSN), a post-master's degree, or a Doctor of Nursing Practice (DNP). Different areas have different educational requirements, but a minimum requirement across the board is that a nurse practitioner must hold an MSN. If you don't already have your Bachelor of Science in Nursing (BSN), then you should get that first. Then, move on to get an advanced degree.
However, there are programs which allow you to be a little speedster, offering accelerated RN to MSN or RN to DNP options, where you can get both your BSN and the advanced degree in one swoop. Some of these programs have coursework that is entirely online or hybrid programs that are half online. Keep in mind; these programs are not easy or cheap. Do your research and find an accredited program* that works for you.
*More small print: It is important that your nurse practitioner school program is accredited by the Commission on Collegiate Nursing Education (CCNE), or the Accreditation Commission for Education in Nursing (ACEN). Only accredited programs by the CCNE or ACEN confirm that graduates are qualified for certification. Again, do your research!
3) Know the Licensing Requirements in Your State
All states require that NPs be licensed, and each state has its own specific requirements for licensure. Research your state's board of nursing to see the requirements, as well as any additional qualifications you will need.
4) Choose a Specialty
NPs have a population focus, so it's time to do some self-reflection here: What kind of practice interests you? Do you want to be a family nurse practitioner? Does pediatrics interest you? What about Psych? There are multiple options here; you just have to know which area pulls you in.
5) Get Licensed and Certified
Depending on your chosen area of specialization, national certification is available from different professional associations, including the American Academy of Nurse Practitioners, the Pediatric Nursing Certification Board, the National Certification Corporation for the Obstetric, Gynecologic, and Neonatal Nursing Specialties, and the American Nurses Credentialing Center. 
Phew…lots of information right? The takeaway here is that you should do your research and find a program that is right for you. And, your life will be a whole lot easier if you refresh your knowledge of previous content. Check out Picmonic for nurse practitioners to stress less, remember longer, and ace your exams! 
CLICK HERE TO TRY PICMONIC FREE

Download our mobile app and take Picmonic on the go!
References:
http://nursejournal.org/nurse-practitioner/nurse-practitioner-salary-statistics/
https://www.aanp.org/education/student-resource-center
http://nursejournal.org/nurse-practitioner/what-to-know-to-become-a-nurse-practitioner/
http://www.aacn.nche.edu/ccne-accreditation
http://www.acenursing.us/accreditedprograms/programSearch.htm
(Visited 98 times, 1 visits today)