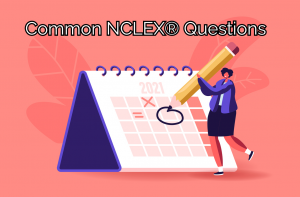 The NCLEX® (National Council Licensure Examination) is going to be different from any exam you have taken thus far. Don't worry though, Picmonic has you covered! The purpose of the NCLEX® is to determine if it is safe for you to practice as a nurse after the completion of nursing school. Although you will utilize the information you learned in nursing school, the NCLEX® will test you on application, analysis, and how you can use your knowledge to make critical decisions. Below we'll dive in on the top questions nursing students have about the NCLEX® so you can be prepared for what is to come!
1. How many questions are on the NCLEX®?
The National Council Licensure Examination consists of a maximum of 265 questions and a minimum of 75 questions in a normal exam year. However, due to the pandemic, the test will consist of 75 to 145 items (as of October 1, 2020). In addition, this examination will also offer 15 pretest items. Exam takers currently get up to five hours to take the examination. Due to COVID-19, several NCLEX® practices and procedures have been modified. Remember, when you're taking the NCLEX® in 2022, you must adhere to social distancing and new guidelines. For more information regarding the NCLEX® changes due to COVID-19, please click here.
2. How many questions do you have to get right to pass the NCLEX®?
On the NCLEX® examination, test takers will see a minimum of 75 questions and a maximum of 265 (145 maximum due to new COVID-19 policies). The NCLEX® examination is taken through Computer Adaptive Testing (CAT). During the five-hour examination, test takers will be offered two optional breaks. Please note, setting a pace for yourself during this examination is extremely important. Once you submit an answer to a question, you will no longer be able to access that question again. CAT has the ability to cater the exam specifically to the test takers' abilities. Stephanie from the Magoosh NCLEX-RN Blog states: "Your score is not based on a percentage of questions answered correctly. Your score is based on the computer's estimate of your ability. To pass the NCLEX-RN, the computer uses one of 3 rules:
The computer determines with 95% confidence that you are above the passing standard. This translates to the computer estimating with 95% confidence that you can answer medium-difficulty questions correctly at least 50% of the time.
The maximum length of the exam rule is used if you have reached the maximum number of questions (145) and the computer still has not determined if you have performed above the passing standard. In this case, the computer will use the most recent ability estimate to determine your score. If your most recent estimate is above passing, you will pass. If not, your score will be reported as failing to meet the passing standard.
The run-out-of-time-rule applies if the computer has not determined with 95% confidence that you are able to meet the passing standard by the time the maximum allowed time has passed. If you run out of time, the computer will look at your last 60 ability estimates to determine if you have passed."
3. How to pass the NCLEX-RN® in 75 questions?
There are many things you can do to be as prepared as possible for the NCLEX® examination. Here are our top tips on how to pass the NCLEX-RN® in 75 questions!
Start studying as soon as possible and use review guides. The more prepared you are, the more successful you will be. Picmonic has a 4 Weeks to NCLEX Workbook and Study Planner that can help you kickstart your studies! Check it out on Amazon here. This workbook & study planner is the ultimate study companion to Picmonic for Nursing! This workbook is jam-packed with study tips and information to take all the stress out of studying. Once you finish the study schedule, you'll be ready to walk into your NCLEX exam with confidence.
Practice board-style questions. By practicing board-style questions, you can get a real understanding of how you need to study and prepare for the exam. The NCLEX® covers text-based, multiple-choice, and four-option questions. Be prepared for some questions to come with graphs, charts, and tables as well. There are multiple great resources to practice NCLEX board-style questions, such as TrueLearn or BoardVitals. To start quizzing yourself for free, check out Picmonic's NCLEX® Question of the Day here!
Use a plethora of study resources. Picmonic is a great resource to start with! First and foremost, Picmonic has a specific playlist just for the NCLEX®. To accompany this playlist, we recommend utilizing the 4 Weeks to NCLEX Workbook and Study Planner! Picmonic also has an awesome YouTube channel, if we do say so ourselves. From "Tips and Tricks to Mastering NCLEX Style Questions" to "7 NCLEX Mistakes to Avoid on Exam Day", Picmonic has a plethora of different resources you can utilize in the days, weeks, and months leading up to the exam.
Manage your test stress. Keeping yourself in a good frame of mind makes all the difference in the world when it comes to studying for a big exam. Focus on taking breaks when you need to and not letting yourself feel too overwhelmed. Picmonic has many helpful blog posts covering the importance of students' mental health and keeping stress levels in check! Check out how to kick test anxiety in the face here.
Stay level-headed. Don't expect to pass the NCLEX® in the minimum amount of questions. Prepare for the maximum instead to avoid any disappointment that occurs when you hit question 76. If you pass at 75, that's fantastic! If not, that is still completely okay. The most important thing is to maintain your focus and pass the exam.
Stay positive! We know this is easier said than done. After countless hours of preparing and studying for the NCLEX®, you know the material better than anyone. You can do it!
4. Resources to practice actual NCLEX® questions.
Are you looking for examples of actual NCLEX® questions? Look no further! While Picmonic's quiz questions are designed for efficient memory anchoring, they are not representative of the lengthy higher-order multiple-step board-style questions that you'll want to practice before taking the NCLEX®. One resource you should definitely check out is BoardVitals. Picmonic has partnered with BoardVitals to create an amazing study duo for nursing students! BoardVitals includes over 2,800 practice questions for the NCLEX-RN®. For more efficient studying, check out this blog on how to use Picmonic and BoardVitals together! In addition to utilizing BoardVitals for test prep questions, don't miss out on Picmonic's NCLEX® Question of the day. By doing the question of the day, you are exercising your brain! Prepping for the NCLEX is all about creating healthy study habits for yourself. Don't wait till the last minute, start practicing as early as you can here!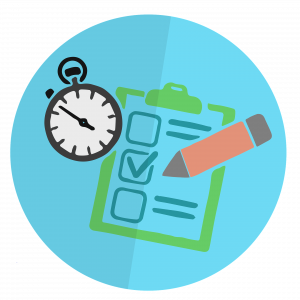 You should be so proud of yourself for all of your hard work thus far. Embarking on the next steps of your nursing journey is extremely notable. From our workbook & study planner to countless amounts of tips and tricks, Picmonic is here for you! If you haven't already, check out these other amazing NCLEX Resources from Picmonic!
(Visited 32,457 times, 15 visits today)