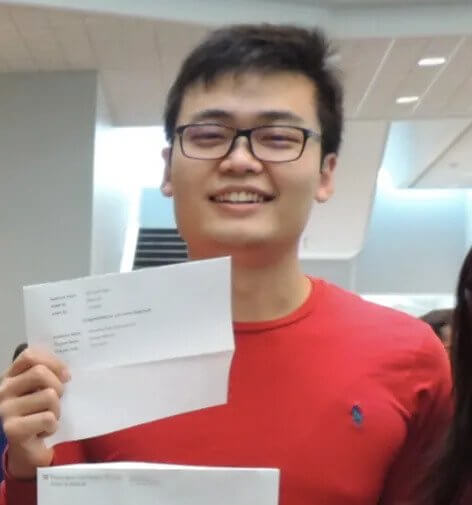 Nai Chien Yeat is a current M4 at Washington University School of Medicine in St. Louis. He matched into Internal Medicine at Albert Einstein's Moses-Weiler. We reached out to him to hear about his Match Day experience.


What did you do to prepare for the Match?
I did my best to set myself up as a competitive candidate. I talked to people who had been through the process, and tried my best to keep a cool head during application season. It was a stressful time, but I had good support from classmates, faculty and friends.
For example, I almost sent in an unedited version of my personal statement because I was frustrated with how long it had taken me to complete my application – but my classmates and faculty mentor helped me take a step back, and gave me encouragement and timely feedback as I took the extra 2-3 days to polish up my application.
I am very grateful that I could lean on them throughout the process.

How did you feel when you found out where you matched into internal medicine?

For the first hour, I felt oddly calm as I sat through the rest of match day; the excitement caught up with me an hour later.


Are you excited to move to New York?!

I go to medical school in St. Louis but my fiance's job is in New York, so we've been living in different cities for the last 4 years – I was more relieved than excited when I opened my envelope.


Do you have any advice for students who are beginning their medical journey?
I would encourage 1st and 2nd years to treat their pre-clinical classes not as prep for Step 1, but as opportunities to build a strong foundation that they will draw on in the future. As a 4th year, I am constantly surprised by how much the teams I work with draw on knowledge we learned in 1st and 2nd year of medical school.
I think there is a temptation to cram to maximize one's score on an end of block test, but this comes at the expense of long-term retention. We've also become kind of blasé about forgetting facts, especially preclinical knowledge.
'Drinking from a fire hose' is an apt description of the sheer amount of medical knowledge we need to learn. I sometimes caught myself using it as permission to shirk learning topics that I found dry.
I wish I had known how important it is to study for retention vs. studying for the test. Picmonic has been a great help in ensuring long-term memory retention, and I expect to continue using it in residency. To the Picmonic team: thanks for making such a great learning tool! You're saving patients' lives one fact a time!
TRY PICMONIC FREE TO MATCH AT YOUR TOP CHOICE
---

Download our mobile app and take Picmonic on the go!




(Visited 396 times, 1 visits today)