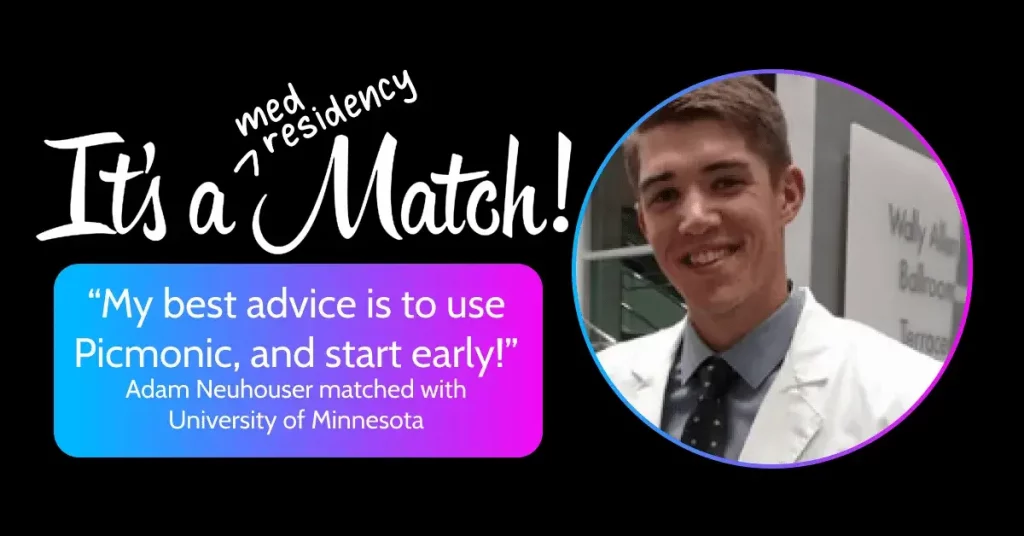 Congratulations to Adam Neuhouser who matched with the Ophthalmology program at the University of Minnesota. Read on for his Match Day 2021 story.
I've never considered myself someone who would get into their dream school. But after years of work I matched into my top program in ophthalmology at the University of Minnesota! If I can match at the top of my rank list, it can happen to you too!
I didn't attend a prestigious undergraduate or medical school, and I don't have any family connections in the medical field. You don't need any of that if you just keep your head down and work hard! No matter the specialty, you should aim to be as academically competitive as possible.
What Advice Would You Give Medical Students to Match With Their Dream School?
My best advice is to use Picmonic, and start early!
The earlier you learn and review the picture mnemonics the longer it will stick into your long-term memory for Step 2! Customize your own Picmonics with cropped images from the Internet to help you remember tough facts you come across when completing your question bank.

Keep a running list of Picmonics relevant before the test, and then review those Picmonics over and over until you can see most of the image in your head.
Having high test scores is always better than not, but it's not everything. Don't forget to be a good human! Have a positive attitude and work with a smile. Be the student who stands out by never complaining.
Lastly, the best advice I can give is to pick a specialty early, or at least look into the "competitive" specialties and rule them in or out. Your last "free" summer between first and second year is the golden opportunity to establish yourself in the department of the specialty you wish to practice. Shadow physicians, write a paper, and make relationships. Don't be the medical student who decides to become a neurosurgeon in March of your third year.
Bonus Tip: National organizations and residency programs revamped their social media accounts and websites during the era of COVID. If you're struggling to know where you fit in, check the Twitter or Instagram account of programs in the field and reach out to them.
---
Download our mobile app and take Picmonic on the go!




(Visited 517 times, 1 visits today)