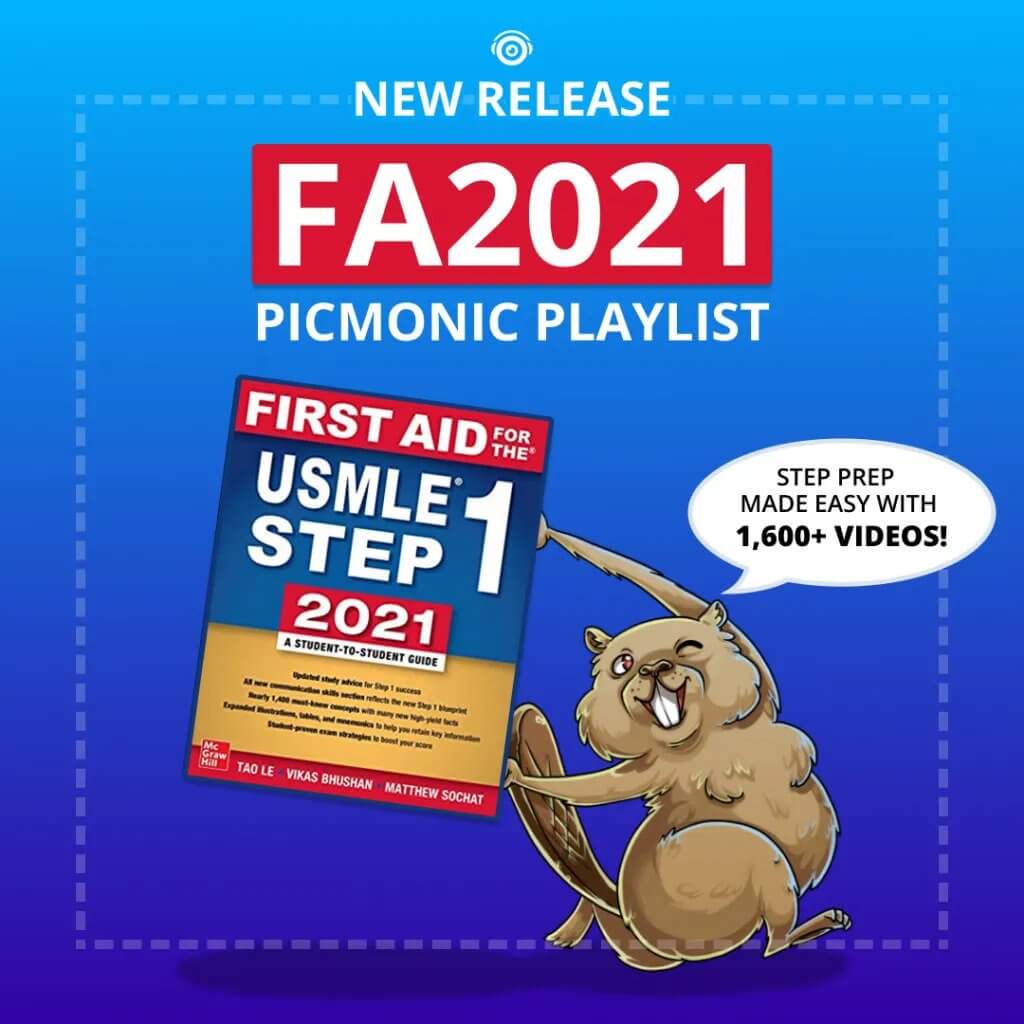 Every year, as medical students prep for STEP 1 with First Aid they use Picmonic to increase retention for high yield topics as they go.
Picmonic helps students get the most value out of First Aid, by making it easy to review high yield facts and commit them to long-term memory as they study. The Picmonic First Aid 2021 Playlist is hot off the digital presses covering over 1,600 topics that follow First Aid for the Step 1 2021 page by page, to help you increase those final exam scores, and ultimately crush Step 1.
Over a million students from hundreds of medical schools use Picmonic and First Aid together, to help them with final exams and Step 1 preparation. Many of our devoted students have contacted us to let us know exactly how they study with Picmonic and First Aid. We thought these were great suggestions and we want to share them with you!
Learn a few new

Picmonic

topics at the beginning of each day to get them in your mind. It's a nice way to start the day and exercise the brain. Mark the topics you learn each day in your copy of First Aid.
Follow along with First Aid page by page. You can find this under the First Aid and Other Books

section of Browse

.
Use stickers (small stars or really anything small will work!) and put them by each associated topic in First Aid. Do this before you even go through all of the Picmonic videos so you know when to log in and check out a particular topic.
When studying with First Aid, test your memory of the associated Picmonic video by quizzing yourself on it. If you're still struggling with it, bookmark the topic in the Picmonic learning system so you know to spend more time on it later (there's a Playlist with all your bookmarked Picmonics).
If a particular fact within a topic in First Aid is giving you trouble, don't worry. When you use the Picmonic quiz, the facts are added to your

Spaced Repetition Queue

. Our smart quizzing algorithm will make sure you are quizzed on them at the exact right time to maximize your long-term memory (based on your % accuracy, how long it's been since you last answered a quiz question on that fact, and other factors).
Annotate, annotate, annotate. Make notes or draw pictures related to Picmonic to help you draw connections to each topic later when you're flipping through pages. In Picmonic, you can even add your own custom facts to any topic in case there are some additional details you'd like to recall.

Need a break from reading? We've got you. Take a break, go through a few random Picmonics, listen to the story audios, and have some fun! If you're using Picmonic's iOS or Android app, there's even an option to autoplay a whole Playlist (we call this gym mode). The goal is to master all Picmonic topics before the BIG DAY and snag so many extra points.
---
Our experts say: If you are
…feeling sleepy because reading is not keeping you engaged,
…unmotivated and just want to kick start your study-day,
…depressed because you have so much more to study,
…forgetting those immune deficiencies for the third time,
…in the to be entertained,
then Picmonic is the right choice for you!
Good luck on your exam, The Picmonic Team
CLICK HERE TO TRY PICMONIC FREE
---
Download our mobile app and take Picmonic on the go!




(Visited 976 times, 1 visits today)