Passing an exam as difficult as the PANCE takes a little more energy than just casually looking over your notes from class. A lot goes into preparing for this 300 question multiple choice exam. Picmonic can help you make your best educated guess on the PANCE exam by actually educating you with fun audio-visual mnemonic visual study guides that help you learn and retain more in less time. Get a free trial of Picmonic today to see what our spaced recognition approach can do for you while you study for the PANCE!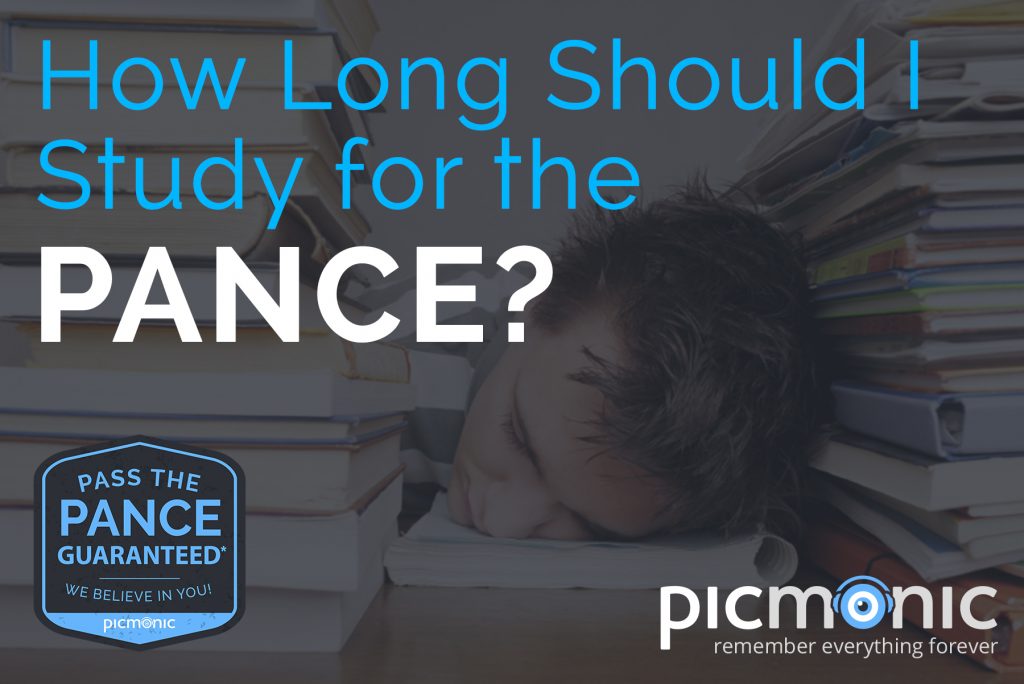 So how long should you actually study for the PANCE? Is there a set amount of time that guarantees an awesome test score? Everyone is different, so we can't tell you how long you specifically need to study for the big exam, but we can give you some helpful pointers on figuring out how much time you need at minimum to get ready for the PANCE.
Everyone Has Their Own Style
Do you work better at night when your roommates are asleep? Do you study better when material is spoken aloud? Maybe you like PA flash cards? Everyone learns differently, figure out what your style is so you can create a study routine that works for you (and that you can actually stick to). In fact, Picmonic can totally do that for you. Picmonic has mnemonic PA study guides that will keep you on track for the PANCE and boost retention up to 331 percent. With fun stories and characters that make learning exciting, try it free before the PANCE!
START STUDYING FOR THE PANCE WITH PICMONIC FREE
Schedule to Study for the PANCE
Not having enough time to study for the PANCE is a major problem, so start studying three to five times a week for an hour or so a session at least 36 weeks out from the day you're set to take your exam. This gives you enough time to figure out what you know, what you don't know, what you REALLY don't know, and what you need to focus on. A 36 week block should give you more than enough time to review properly for the PANCE without feeling overwhelmed, which is half the battle. There's a lot of material to cover so keep careful track of what you need to focus on. A little hint: Picmonic can break it up into Playlists and daily quizzes that teach you what you need to know when you need to know it, making it way easier to study for the PANCE.
Start …NOW!
Once you've set up a test date, you should start studying for the PANCE immediately. Don't procrastinate when it comes to studying. Maybe you don't have the ideal 36 weeks (aka more than half a year) to study for the PANCE, but you do have right now, and there's no time like the present! Procrastination can just lead to stress and stress leads to crying/panicking/being unproductive and that's just a lot of wasted time. Start studying today, but, you know, after you finish reading this blog.
START STUDYING NOW
Set Your Goals
When studying, be consistent and make sure you stick to a plan that you write in a spreadsheet or calendar so you know what you're studying and when. If you hate making study plans, let Picmonic Playlists do it for you. Picmonic Playlists help you learn what you need when you need it, making your study time super efficient.
Study Smart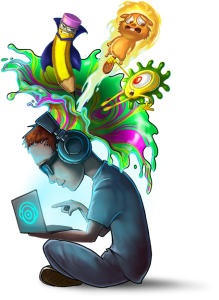 You can start studying 36, 52, or even 85 weeks out from the PANCE and still do horribly if you're not really giving it your all, so study smart. Remember that studying an hour a day is much easier than studying six hours every Saturday. Another way to study smarter? Use picmonic. It's a lot more fun than PA flash cards and bonus: you'll learn way more than using just traditional methods. And hey, while we're all here, it's also worth noting that Instagram stalking that one person with the hair that you vaguely remember from your first semester as a PA student is not actually studying. Be real and honest with yourself about how much effort you're really putting in to study for the PANCE, it'll make a difference in your score later. Don't take advantage of what precious time you do have to study.
Know When You're Done
When you schedule out your studying, be sure to also schedule an end to these study sessions. Keep it one to two days out from your PANCE exam so that you have a little time to relax and get what you need together before you walk into the testing center.
However you decide to use your study time, Picmonic can make it much more efficient! Picmonic Playlists are ideal for creating a study schedule you can actually stick to so you can pass the PANCE the first time. Plus, with Picmonic, our mnemonic study guides actually help you learn more with a "spaced repetition" approach and daily quizzes that are tailored to focus on the facts you need to review when you need to review them, minimizing the "forgetting curve" (and upping your PANCE score!). Sign up for a free trial today!
CLICK HERE TO TRY PICMONIC FREE

Download our mobile app and take Picmonic on the go!




References:
https://www.thepalife.com/how-to-study-for-and-pass-the-physician-assistant-recertification-exam-panre/
http://www.physicianassistantexamreview.com/wp-content/uploads/2012/08/54-Study-Tips.pdf
(Visited 1,187 times, 1 visits today)