Our scholars have been busy working with students like you to cover even more of the most need-to-know topics. Picmonic Premium members can now find OVER 100 "Verified Community Picmonics" in their Picmonic Browse, Search, and Home Screen of the web app.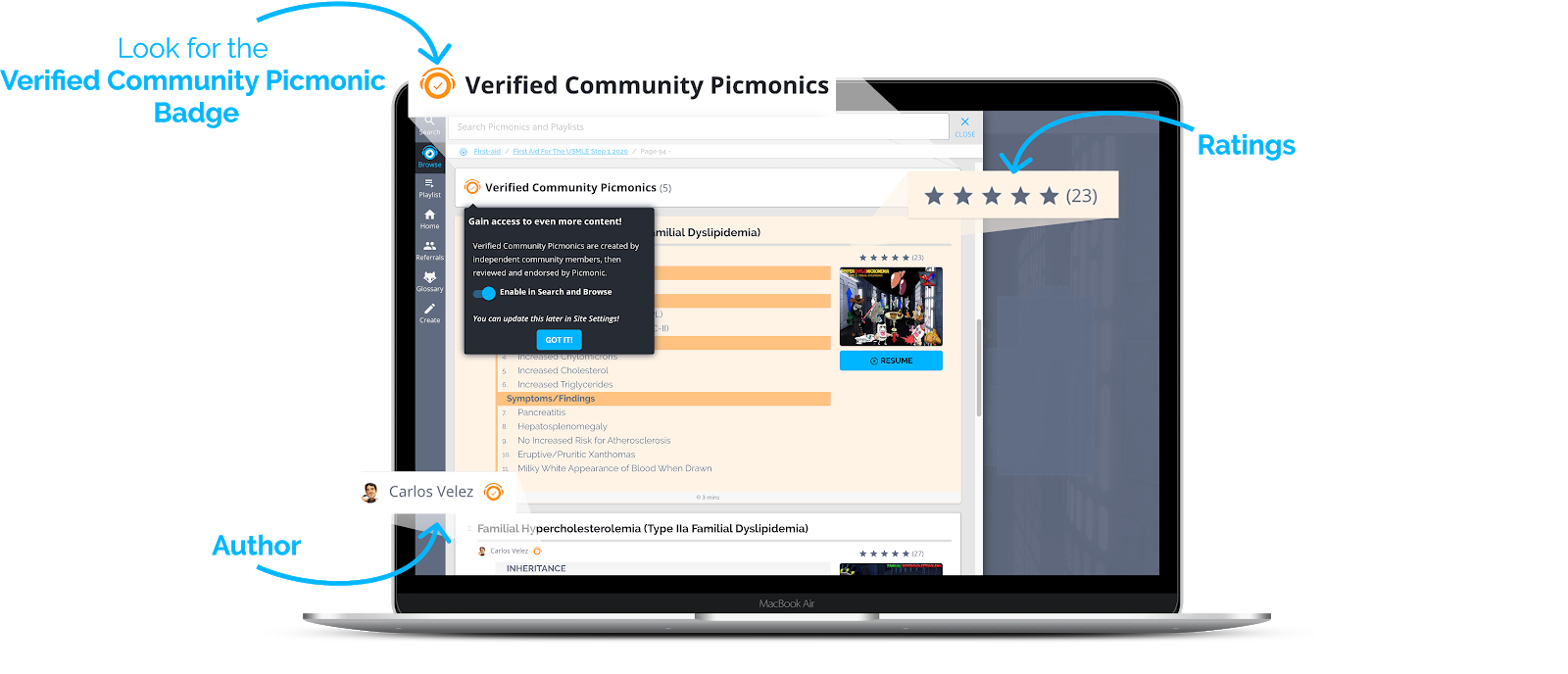 Verified Community Picmonics are created by independent community members and endorsed by Picmonic. Each has:
✅ Ratings from other students, so you can be even more confident.
✅ A full vetting from the Picmonic Scholar Team
✅ All of the awesomeness of standard Picmonics
Premium members can toggle Community Verified Picmonics on and off within the Site Settings area: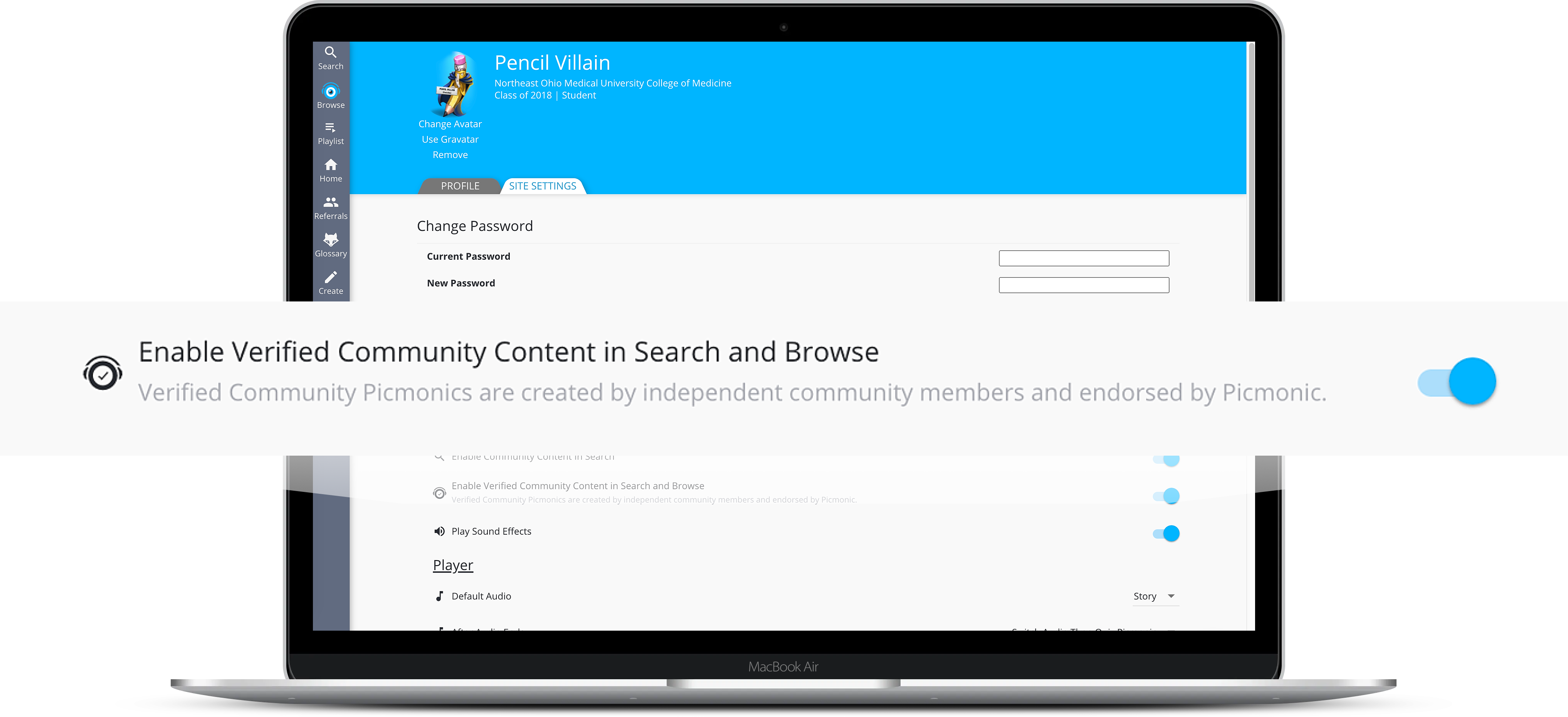 ---


What's a Verified Community Picmonic?

The ultimate collaborative effort. Anyone can create their own Picmonic (even free members). But Verified Community Picmonics combine a seriously amazing Creator with the backing of the Picmonic Team experts, and you get a Verified Community Picmonic. Verified Community Picmonics are created by independent community members (Verified Creators) who work directly with the Picmonic team. Any Verified Community content has been reviewed and endorsed by the Picmonic Team for academic accuracy.
These Verified Creators have met the following requirements:
• 100+ Picmonics created
• 50+ highly rated Picmonics (at least 100 ratings averaging 4 stars and up)
• Can verify education/mastery of field by meeting various academic requirements (differing based on area of study)
This program allows the most active, highest rated, top-tier Creators to create content for healthcare students, while working alongside the Picmonic team. Once a Picmonic user has met all of these requirements, our team may review their creations and elect to invite them to apply as a Verified Creator. 
Want to apply to become a Verified Creator? Just send us a quick message.
APPLY TO BE A VERIFIED CREATOR
---
Learn more about Picmonic's Verified Creators

Tanner Norris, M.D.
I'm a medical doctor from Chicago who loves snowboarding, hiking, and playing music!
After initially struggling academically my first year of medical school, I found out that there are other ways to learn than copying lecture slides into a notebook. After discovering Picmonic, I was blown away at not only how much more I remembered and how much my scores improved, but how much easier, efficient, and fun studying became. Now I continue creating Picmonics because it's a fantastic way for me to keep expanding my knowledge while also scratching that creative itch!

Carlos Velez, M.D.
My name is Carlos Velez Torres and I am a medical doctor from Puerto Rico.
I am a medical doctor that embraced his visual learning skills and succeeded thanks to Picmonic. When I started medical school, I started to feel overwhelmed. It wasn't until I found Picmonic that I remembered I have always been a visual learner. Picmonic made it possible for me to remember all medical topics and it was the key to my success.

Ana Cabal, M.D., 246 USMLE Step 1, 266 USMLE Step 2
I am a medical doctor from Colombia. Throughout med school, I loved creating mnemonics and stories to learn and to share with my friends. I discovered Picmonic after graduating from medical school when I was preparing for Step, and thanks to the creative stories and spaced repetition, I improved my recall and scores.
I still use Picmonic and when I am with a patient, I am amazed that I can remember all the important adverse effects of medications patients are taking and drug interactions. That's why I continue to use Picmonic, because it goes beyond helping you boost your memory and increase your scores. It can help you become a better doctor. Plus – I like learning the fun way!

Destiny Byrd, RN BSN, NP student @ Vanderbilt
I'm a nurse practitioner student at Vanderbilt University in Nashville, Tennessee. I knew I liked my notes to be pretty and organized, but it wasn't until Picmonic that I realized how much of a visual learner I am.
I study much more efficiently with pictures and videos. Picmonic is the perfect resource with vivid pictures plus resource videos, all in one. Picmonic made pharm so much easier. It's a great way for visual learners to work smarter, not harder.
*more Verified Creator profiles coming soon! 
(Visited 28 times, 1 visits today)