Our scholars have been busy working with students like you to cover even more of the most need-to-know topics. Picmonic Premium members can now find OVER 150 "Verified Community Picmonics" in their Picmonic Browse, Search, and Home Screen of the web app.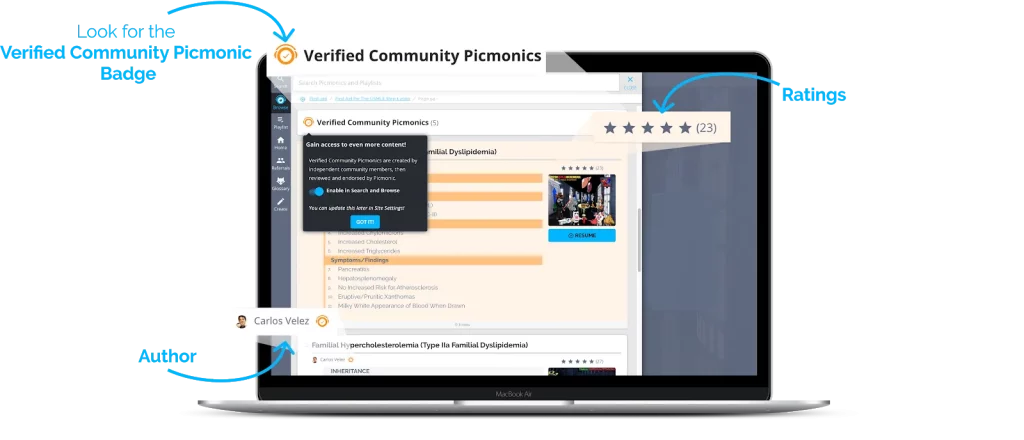 Verified Community Picmonics are created by independent community members and endorsed by Picmonic. Each has:
✅ Ratings from other students, so you can be even more confident.
✅ A full vetting from the Picmonic Scholar Team
✅ All of the awesomeness of standard Picmonics
Premium members can toggle Community Verified Picmonics on and off within the Site Settings area: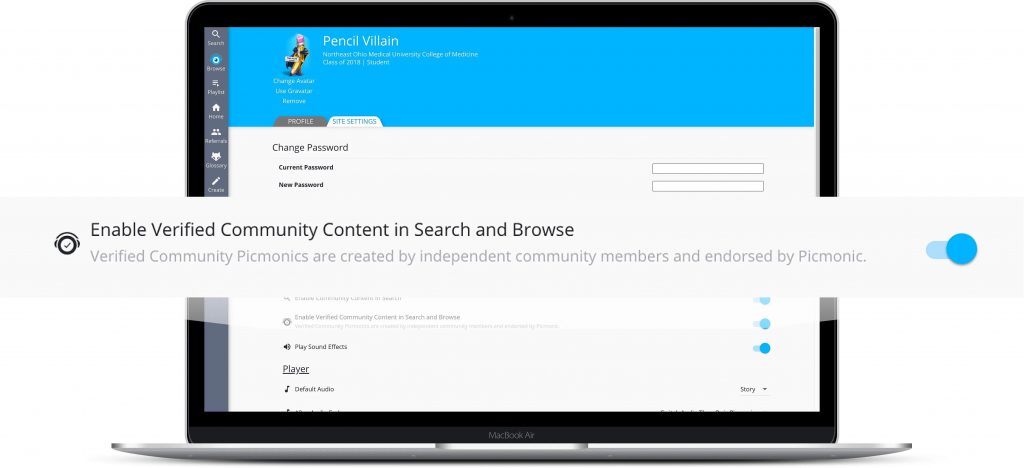 ---

What's a Verified Community Picmonic?

The ultimate collaborative effort. Anyone can create their own Picmonic (even free members). But Verified Community Picmonics combine a seriously amazing Creator with the backing of the Picmonic Team experts, and you get a Verified Community Picmonic. Verified Community Picmonics are created by independent community members (Verified Creators) who work directly with the Picmonic team. Any Verified Community content has been reviewed and endorsed by the Picmonic Team for academic accuracy.
These Verified Creators have met the following requirements:
• 100+ Picmonics created
• 50+ highly rated Picmonics (at least 100 ratings averaging 4 stars and up)
• Can verify education/mastery of field by meeting various academic requirements (differing based on area of study)
This program allows the most active, highest rated, top-tier Creators to create content for healthcare students, while working alongside the Picmonic team. Once a Picmonic user has met all of these requirements, our team may review their creations and elect to invite them to apply as a Verified Creator.
Want to apply to become a Verified Creator? Just send us a quick message.
APPLY TO BE A VERIFIED CREATOR
---
Learn more about Picmonic's Verified Creators

Tanner Norris, MD
After initially struggling academically during my first year of medical school, I found out that there are other ways to learn than copying lecture slides into a notebook. After discovering Picmonic, I was blown away at not only how much more I remembered and how much my scores improved, but how much easier, efficient, and fun studying became. Now I continue creating Picmonics because it's a fantastic way for me to keep expanding my knowledge while also scratching that creative itch!

Carlos Velez, MD
My name is Carlos Velez Torres and I am a medical doctor from Puerto Rico. I am a medical doctor that embraced his visual learning skills and succeeded thanks to Picmonic. When I started medical school, I started to feel overwhelmed. It wasn't until I found Picmonic that I remembered I have always been a visual learner. Picmonic made it possible for me to remember all medical topics and it was the key to my success.

Ana Cabal, MD
I am a medical doctor from Colombia. Throughout med school, I loved creating mnemonics and stories to learn and to share with my friends. I discovered Picmonic after graduating from medical school when I was preparing for Step, and thanks to the creative stories and spaced repetition, I improved my recall and scores. I still use Picmonic and when I am with a patient, I am amazed that I can remember all the important adverse effects of medications patients are taking and drug interactions. That's why I continue to use Picmonic because it goes beyond helping you boost your memory and increase your scores. It can help you become a better doctor. Plus – I like learning the fun way!

Destiny Byrd, RN BSN, NP student @ Vanderbilt
I'm a nurse practitioner student at Vanderbilt University in Nashville, Tennessee. I knew I liked my notes to be pretty and organized, but it wasn't until Picmonic that I realized how much of a visual learner I am. I study much more efficiently with pictures and videos. Picmonic is the perfect resource with vivid pictures plus resource videos, all in one. Picmonic made pharm so much easier. It's a great way for visual learners to work smarter, not harder.


Nick Karazanashvili, Med student @ Tbilisi State Medical University
I am a medical student from Georgia (the country) who loves music, good movies, and comic books. I always loved using mnemonics to memorize complex material, but Picmonic was a game-changer. I used it for my medical school exams and USMLEs and I absolutely loved it – and it definitely got me extra points. Now it is time to pay it forward and help others achieve their dream scores too.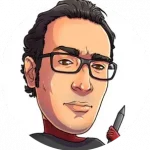 Ahmed Karim, MD
I am a medical doctor. Dad for a beautiful and stubborn dog called Stella. Although, I hold a bachelor's degree in medicine and surgery. Yet, as a human, I tend to not like memorizing hundreds of thousands of meaningless drug names. That changed when the Picmonic miracle manifested itself in my life. Picmonic proved that there is nothing wrong with my hippocampus, rather it is in pristine conditions. Picmonic is the only education tool in the world that implemented and evolved the spatial palaces memorization techniques.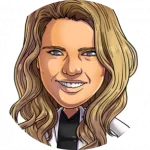 Mckenzie Reynolds, PA student @ University of Utah 
I'm Kenzie, a second-year PA student from the University of Utah. At the beginning of PA school, I was overwhelmed with trying to learn massive amounts of information in short periods, while also finding that the information wasn't sticking long after. Finding Picmonic was an absolute game-changer for me. As a visual learner, Picmonic has allowed me to not only retain so much more information but has made studying exponentially more enjoyable (trying to memorize thousands of lecture slides can be excruciating).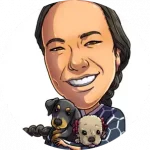 Laura Yuriko Gonzalez Teshima, MD
My name is Laura Yuriko and I'm an M.D. from Colombia. Through college I was constantly creating and using mnemonics with my best friend Ana, trying to find the best way to memorize all the facts we need to know in our daily practice. When Ana introduced me to Picmonic I was ecstatic and thrilled to find a platform that was complete in sync with my study methods.

Joana Andoh, Med student @ Yale School of Medicine
My name is Joana and I am a 3rd-year medical student at Yale School of Medicine. Through experimentation with all the picture services out there I realized that pictorial mnemonics, like Picmonic, were for me! I'm more than happy to be scanning through cartoons while taking a test (the ultimate stress reliever). It wasn't until I tried Picmonic that I seriously started making my own pictures (that worked and stuck!). I was a classics major in college and am reminded of Cicero's essay on the "art of memory", even the great ancient orators would create houses of information that they would recall when reciting a speech from memory!


Juan Razo, Med student @ Pacific Northwest University
My name is Juan and I am a 3rd-year medical student at Pacific Northwest University. I currently have my mindset on cardiology. I cannot thank Picmonic enough for how much it has helped me throughout didactics. The only regret I have is not knowing about Picmonic earlier. I am excited to be part of a project that will aid medical students across the globe. This is definitely the go-to resource for medical school.


Dike Afifi, MBBS
My name is Dike, a medical doctor from Indonesia and also a medical book author. I love drawing, basketball, and watching cartoons. A little story about me is that I'm the first medical comic author book in Indonesia. I wrote a few titles. One of my best titles was "Simple Notes of ECG" and it sold almost 3000 books. I decided to reach my dream to continue my education in the United States. I'm studying for my steps now. Most of the USMLE topics are new to me which gives me more effort to find out how to learn these topics easily and quickly.

Annie Dally, Med student @ Sanford School of Medicine of the University of South Dakota
I am Annie, a second-year medical student in South Dakota. Even having done graduate coursework in the past, medical school proved to be a whole new academic beast. Flashcards seemed to be the main way other people studied, but it wasn't working for me. In my first semester, a fellow classmate introduced me to Picmonic, and I have used it ever since. It has dramatically increased my recall of key facts, and I am excited to join the team and help provide that for others!

Arwa Bohra, Med student @ All India Institute of Medical Sciences
During my premed journey, I realized I wasn't able to memorize facts effectively. Then, I started using the power of projecting facts onto signs and their spaced visualization. This turned out to be a turning point in my life. This year, when I discovered the Picmonic, my happiness reached no bounds. I am absolutely in love with how the Picmonic Platform is so scientifically designed yet is so user-friendly. I have myself navigated very tricky topics with the help of Picmonics and am a staunch believer that it can help to harness high-yield information very easily and effectively. This opportunity has by far been one of the best in my life, as it works in alignment with my style of learning and teaching.

Cristian Cazac, MD
My name is Cristian Cazac and I was born in Moldova. I obtained my M.D. degree from Romania and subsequently came to the U.S. to take the USMLEs and pursue a medical residency. Throughout medical school, I created my own mnemonics and storylines for hard to memorize subjects such as pharmacology and immunology. In medical school time is scarce, so I was not able to create enough mnemonics to cover all the topics that I needed. I was thrilled when I discovered Picmonic while studying for STEP 1. I was absolutely blown away to have visual mnemonics, spaced repetition, quizzes, storylines, and most importantly fun, combined into one single platform.

Moni Contreras, Med student @
Universidad Anahuac de Queretaro

I am a medical student from México who loves hiking, boxing, photography, and teaching. I discovered Picmonic while trying to understand immunology. I was amazed at how easy it was to memorize things with the fun mnemonics Picmonic offered. I was thrilled to see that one single platform combined visual mnemonics, spaced repetition, quizzes, and storylines and made learning fun.

Marc Jonsson, Med student @ Medical University of Łódź
I'm from Sweden but study in Poland at the Medical University of Łódź . My hobbies foremost are making music, motorcycling, traveling, eating, the gym/water sports, and flying my drone. I look forward to making the med world a lot easier with help of visual learning.

Benjamin Tran, Med student @ Saint James School of Medicine
I'm Benjamin and I'm currently a year 2 medical student at St James in Anguilla. I started using Picmonic 5 months ago. At the moment, I'm about 70% completed with all Picmonics and hopefully can get to 100% within the next 6 months before taking the Step 1 exam. Just like many people…I am in LOVE with Picmonic! I'm happy to be a part of this community.

*more Verified Creator profiles and updated avatars coming soon!
(Visited 783 times, 1 visits today)