We're going to take you through all the basic and advanced features Picmonic has to offer. Picmonic is all about efficiency and designed to help you retain more in less time. Check our tutorials, and if you have any questions, feel free to reach out to us at feedback@picmonic.com. Want a live demonstration or workshop for you and your classmates? Join our Picmonic Workshop Facebook group, and either post a request or join a scheduled workshop!
The Basics of Learning with Picmonic
• The Efficient 3-Step Learning Process
• Browse or Search to Find Content Fast
• The Daily Quiz with Spaced Repetition
• Playlists
• Personalize Your Content
• Make Your Own Picmonics
The Efficient 3-Step Learning Process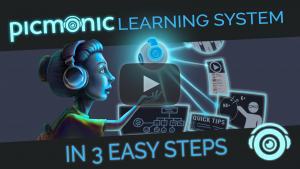 The fastest way to develop long-lasting memory anchors!
1) Learn – Develop memory anchors
2)

Quiz – Reaffirm those memory anchors
3)

Spaced Repetition – Make long-term memories
Learn more about the Picmonic Learning System:
Start off by clicking on "Search" in the top left nav bar. Search for a subject you want to learn, like Vitamin K. The cards are going to populate on your right-hand side; just click on the card you want. Then, press the blue play button, sit back, and start learning!
The first thing you'll hear is the educational audio, which takes the high yield facts from this topic and relates them to the corresponding characters in the image. This will begin the development of your memory anchors.
After the educational audio ends, the story audio should begin. This will tie all of the characters together, so when you can remember one of them, you'll remember all of them.
Now that those memory anchors are planted, we begin step two of the Picmonic learning system – the Quiz. Picmonic's quiz is designed to efficiently increase the ability to recreate memories you just formed by asking you short recall questions. Need a hint? Take a look at the picture, see if you can remember the character. Need to show the character? Just click on "show character hint". Your progress is tracked in the quiz, taking into account the questions you got right and the questions you got wrong.
From there, we get into step three of our process – Spaced Repetition. Picmonic intelligently tees you up with a daily quiz using spaced repetition algorithms. These algorithms factor in the time since you last engaged with the content, your quiz accuracy, if you used hints, and more. On your home screen, you'll find your Daily Quiz with Spaced Repetition tile. All you have to do is hit the green button every time you come back in to get those memories secured in the long term.
Browse or Search to Find Content Fast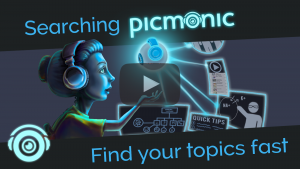 Thousands of topics at your fingertips! Find them fast with Picmonic's custom search!
• Browse courses and subjects
• Playlists
• Follow along in your textbook
Learn more about Search:
To quickly find the content you're looking for in the Picmonic library, there are two major navigation paths: Search and Browse.
To search, just click on the magnifying glass and start typing in a subject. You'll be able to filter your options through the different Playlists Picmonic offers.
Next is Browse, where the content is organized in predefined sets that we call Playlists! You can browse through Playlists, find the one you want, and click "Explore." Then click "show" to see the cards included in the Playlist. You can always move between the different sets of Picmonics with the previous and next buttons. To navigate back to where you came from, just go ahead and click on the breadcrumbs up top!
After Courses, we have the Body Systems Playlist, where you can explore the entire Picmonic library through different body systems. Next, you'll definitely want to check out Books, so you can follow along page by page with the most popular, up to date resources.
When prepping for a big certification exam like Step 1 and 2, or the NCLEX® for nursing, you can save time with these pre-made sets of high-yield Picmonics.
Next up, we have "My Playlists" and "My Picmonics", which include any playlists that you've created, and all of your custom Picmonics!
Lastly, at the bottom, the Everything Playlist is going to mirror the spotlight search, bringing it all full circle. Picmonic search is designed to be fast and efficient, so you'll be able to find what you need when you need it.
The Daily Quiz with Spaced Repetition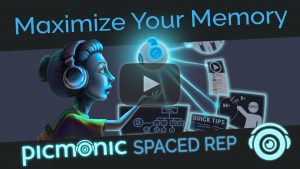 Picmonic has algorithms carefully designed to help you lock in high yield information
• Automatic ingrained into platform
• See what you need, when you need it
• The fastest way to create long-term memories
Learn more about Spaced Repetition
Why does spaced repetition work? Because we forget information at an exponential rate. But, by re-quizzing yourself over increasing intervals of time, also known as spaced repetition, you can quickly turn what you need to remember into a long-term memory. This allows you to minimize the forgetting curve, and maximize your retention.
On your home screen, you'll see your Daily Quiz with Spaced Repetition tile. Use this daily quiz to review everything you've ever studied. The bottom right number is how many you need to review today, and the bottom left is how many you have reviewed. Now, if you want to focus on a specific subject or category for an upcoming exam or area that you're struggling with, click on the "More Options" menu (the three-dot icon), and then "Start Daily Quiz". This will narrow down your spaced repetition queue to just the content in that specific category, course, or even Playlist.
Want to see more questions than you're getting? Just click on the gear icon and select "Settings" to customize the number of facts per day and per round you'd like to see. Spaced repetition is one of the many evidence-based features that Picmonic utilizes to help you maximize your memory.
Playlists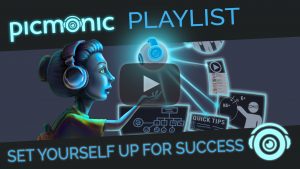 Want to edit an existing playlist, compile your favorites, or Quiz on your own sets? Create a Playlist!
• Add and remove Picmonics
• Add in your own creations
• Share them with your friends

Learn more about Playlists
Making a custom Playlist is incredibly easy. Just click on the "More Options" (the three dot icon) for any Picmonic or Playlist, and create a new Playlist to add that Picmonic. You can add any Picmonic to a Playlist, including ones you've created yourself!
Now you're all set to learn, quiz, and filter your spaced repetition on what you need to know most. You can share your Playlists with others via email, a shareable link that you can post anywhere, or on your school's page! Just hit that "More Options" menu again and select "Share".
Now, one last thing. With all of these Playlists flying around, it can get a little convoluted. That's why we made it so you can easily search your playlist in the spotlight search. Just make sure you name it something you're going to remember. Dates and classes help out a lot!
Personalize Your Content
Not seeing a fact you'd like to include in a Picmonic? Add one!
• Quickly "Add a Fact" or leverage up existing Community Facts
• Quiz on the facts you add to retain them forever
• Revisit them when taking your Spaced Repetition Quiz

Learn more about Adding a Fact
Just scroll down towards the bottom of the fact list and type the name of the fact you'd like to add in the "Add a fact field". This will bring you to the Picmonic editor.
Select a classification for this new fact, and then the name of the character which will be used to represent it. You can add in your definition as well! Then, choose a character from our character bank, or upload your own image. You can crop, rotate and flip the image to make it fit better into the Picmonic. After you are done, your new fact will appear under "My Facts" at the bottom of the fact list.
You can also add "Community Facts" that multiple other users have added to that Picmonic. Click on the down-arrow button to browse what others have included, and hit the "plus" button to add it to your own.
Any facts that you add will then be included in your multiple-choice quiz and Daily Quiz with Spaced Repetition queue!
Make Your Own Picmonics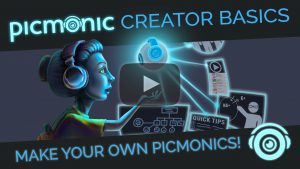 Unleash your inner artist in the Picmonic Creator!
• Make your own Picmonic on any topic you like
• Help other users by expanding available content
• Get awesome tips from Picmonic's very first artist!

Learn more about creating a Picmonic!
Just click on the Create button in your left navigation bar , and then "Create New Picmonic" to get started!
You'll be able to:
• Choose the Topic Fact for your Picmonic
• A background
• All the other corresponding facts you'd like to add
• Record audio for each fact
• Choose the settings for your Picmonic
By filling out each fact, you can choose the character you'd like to use to represent them from our character bank, or upload your own images! You can flip, crop, resize and rotate each image to help make them fit your vision. Feel free to use multiple images for the same fact, and change the layering order using the controls that pop up when each component is selected.
When you are done, hit the "Done Customizing" button! If you have left out anything, you will be reminded to add them, but you can always just use that button to save your progress and add them later, or skip adding anything you want.
We'll continue showing you how to use all of the other great features, including image editing and adding your own audio, in the next part of the tutorial, coming soon!
(Visited 15,370 times, 1 visits today)