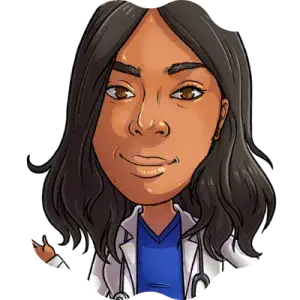 After classes are finished and the graduation celebration is over, nursing students have one last exam standing between them and their first job—the NCLEXⓇ. Jerllyhia Dotson, BSN, RN shares five insider tips for mastering NCLEX prep. It's never too early to start studying for the NCLEX.
But first, if you're interested in following Jay, check her out on Instagram @xoxo.jehr.
5 Tips for Studying for the NCLEXⓇ
Looking for a quick summary of Jay's tips for studying for NCLEX? We've listed them below:
TIP 1: Create a Study Plan
Learning for NCLEX starts on day one, building a solid foundation of knowledge early helps you to master the content prior to dedicated NCLEX studying. As far as a dedicated study period, Jay recommends six weeks to really focus on studying.
Jay recommends setting SMART Goals for studying. Be specific about what you're going to study and how many questions you're going to tackle in the day. How will you study? Where? For how long? Define this before you crack a book or launch an online study tool.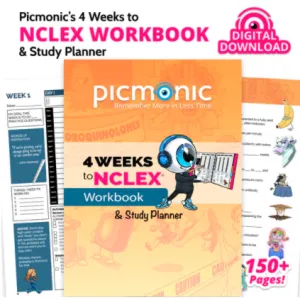 4 Weeks to NCLEX® Workbook & Study Planner Digital Download: Nursing Mnemonic Visual Learning Resource by Picmonic
The ultimate study companion to Picmonic for Nursing! Get ready to take NCLEX® studying to a new level with our 4 Weeks to NCLEX Workbook & Study Planner. This workbook takes all the stress out of studying. Once you finish the study schedule, you'll be ready to walk into your NCLEX exam with confidence.
TIP 2: Practice as Many Questions as You Can
HINT: The TrueLearn NCLEX-RN SmartBank features more than 900 questions
Jay quizzed on 100 questions daily. And, she focused her learning and studying the material from the questions she got wrong. What was the rationale for why she missed it? Jay shared THE notebook she created for material she missed, featuring, of course, motivational quotes!
TIP 3: Dress to Impress
When studying, Jay always got dressed as if she was going to take her NCLEX exam. She was comfy and ready to focus on studying—nothing to distract her! Plus, this helps to get and keep you in NCLEX mode.
TIP 4: Avoid Information Overload
Do you know a nursing grad who went NCLEX crazy? So…how do you choose your tools for studying? Here's what Jay recommends:
Podcast: Find one preferred Podcast to listen to and learn from, especially on the go!

Jay's Favorite podcast:

Mark Klimek Lectures

Question Banks: Limit yourself to one to two question banks.

Video Content: Find one visual learning aid (Jay preferred Picmonic!).
PS: Jay used Picmonic, Mark Klimek's podcast, and Saunders Comprehensive Review for the NCLEX-RN® Examination, 8e 8th Edition

TIP 5: Know that the NCLEX Isn't Trying to Trick You
The NCLEX is determining that you are a safe and competent nurse. Slow down. Read the question. And don't infer what you think they're trying to get you to say.
PS, Check out the webinar on Mastering Tricky NCLEX Questions
And…Jay's final thoughts
Walk into the NCLEX exam like the boss you are! Good luck everyone!"
CLICK HERE TO TRY PICMONIC FREE
---
Download our mobile app and take Picmonic on the go!




(Visited 769 times, 1 visits today)