Anki Flashcards have long been the worst kept secret for medical students studying for USMLEⓇ Step 1, Step 2, or just learning the material necessary to become a successful healthcare provider. 
Anki is a flashcard app leveraging spaced repetition—hey! We know a lot about that!—to help medical students quiz more often on high-yield topics for better comprehension and long-term retention. Anki is open-source, allowing students to create their own flashcards and decks, based on their programs or individual needs. Because it's an open-source platform, Anki has literally thousands of Add-Ons, creating a more visual or creative platform.
And, because we have so much in common, Picmonic recently released an Add-On for Anki! Combining your favorite study flashcards with your favorite video mnemonics. Get ready to achieve your dream score on your boards!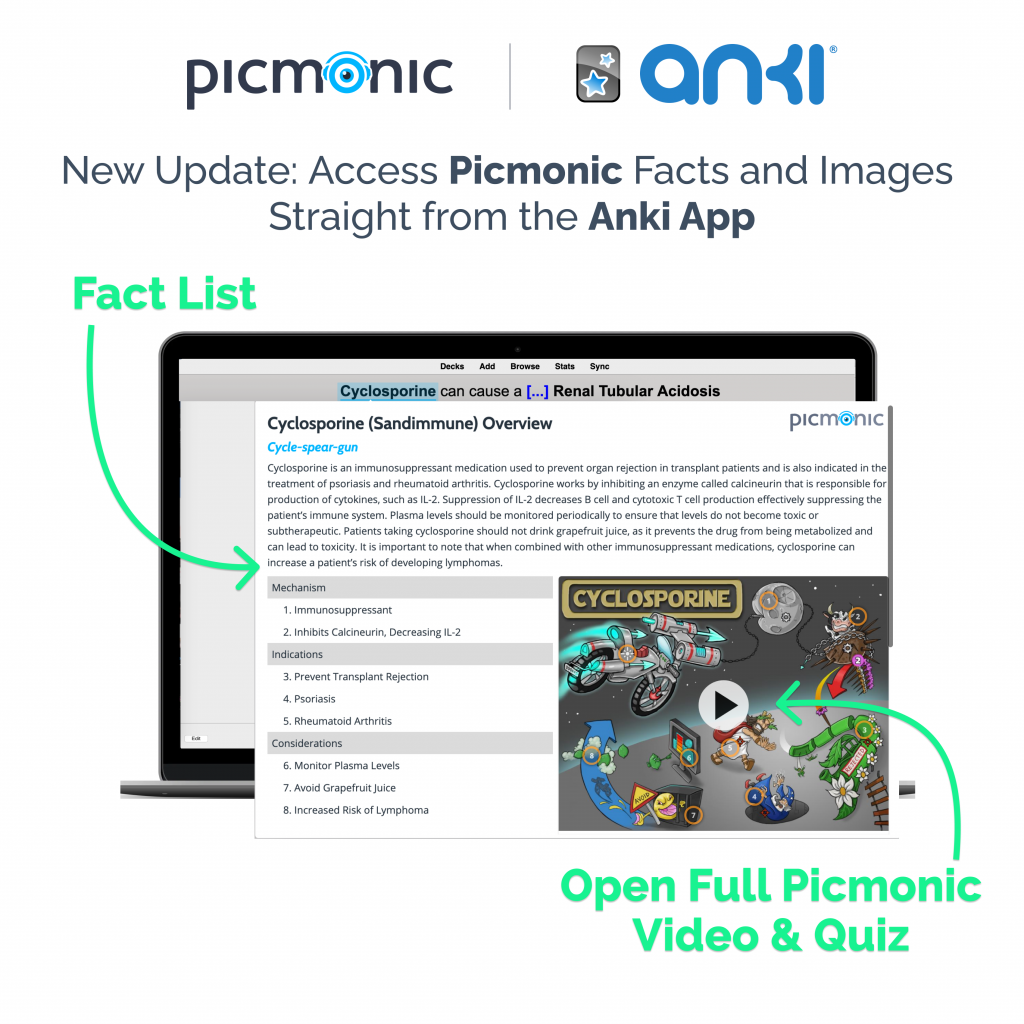 The Picmonic Anki Add-On offers a direct integration between Anki and Picmonic, giving medical students instantaneous access to Picmonic thumbnail images, explanations, high-yield fact lists, videos, and spaced repetition quizzes for any Anki flashcard they're studying.

DOWNLOAD OUR FREE ANKI ADD-ON HERE
Check Out These Videos Featuring Real Medical Students Sharing the Picmonic Anki Add-On on YouTube
Best Study Resources: Picmonic (for Med School, Nursing School, Premed, and more!
In this YouTube video, @AnKingMed highlights all the amazing features of Picmonic—including, of course, the FREE Picmonic Anki Add-On!


Anki-Addons and Advanced Features (3/3)
Gerard Correa, a second-year Medical Student at Cebu Institute of Medicine shares advanced features of Anki including Add-Ons for productivity and studying in med school.


Evening Study With Me Session in Med School | Revision Tips, Anki Flashcards, Active Recall
Kenji Tomita is currently a fourth-year medical student at King's College London. In this video, he'll share an evening session of studying while in medical school. And how he uses the FREE Picmonic Anki Add-On.

A Week Delivering Babies on OBGYN! | I Got the Vaccine
Precious, is an Emergency Medicine resident physician and on her YouTube channel, @WhiteCoatChronicles, she's sharing her experiences through medicine and life. In this video, Precious shares how she used Picmonic's Anki Add-On to prepare for USMLE Step 3—and pass!

How to Revise Effectively? | Use Picmonic Video​ & Anki Together | Visual Mnemonic Method
Revision is important for long-term memory. @medicprakhar shares how he's using the Picmonic Anki Add-On to review content in med school.
Still a skeptic? MS2, MissionsDoc recently shared his experience with the Add-On.
CLICK HERE TO READ THE GUEST POST
CLICK HERE TO TRY PICMONIC FREE
---
Download our mobile app and take Picmonic on the go!
(Visited 1,052 times, 2 visits today)