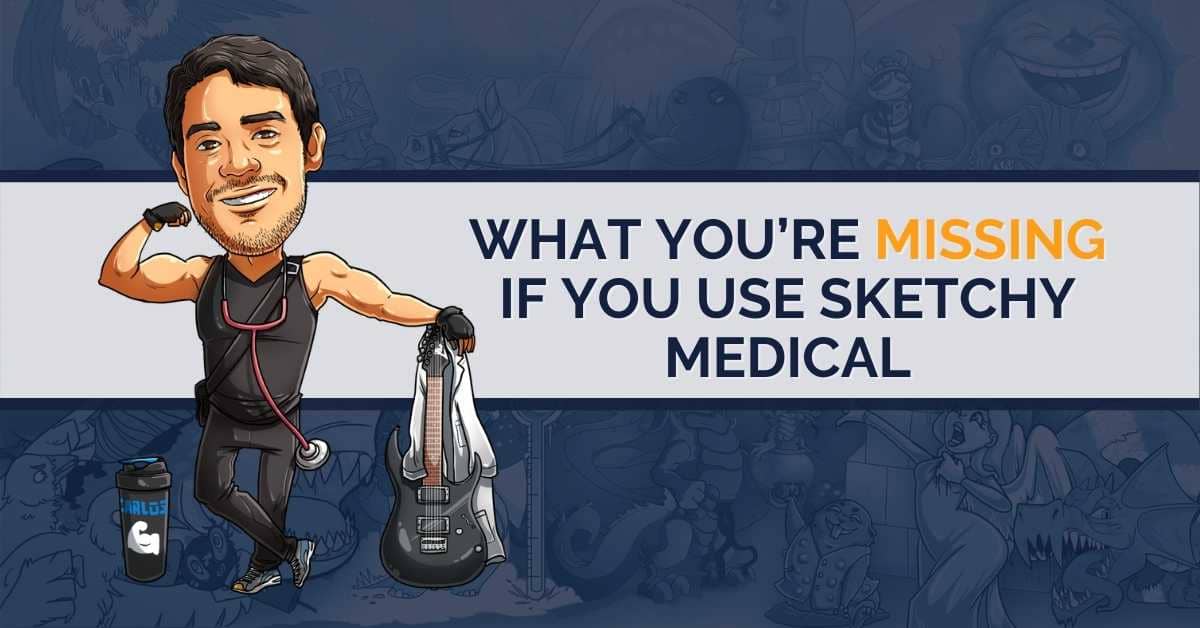 Weighing your mnemonic study tool options? We get it. You can't afford to fail, and as a student, you need to know if it's worth your time and money.
This dilemma for future medical students comes time and time again; Picmonic or Sketchy? Is one better than the other? Spoiler alert: Yes. Picmonic has unique features that Sketchy doesn't! Keep reading to compare all their facts and features below.
Sketch out Sketchy; Pick Picmonic 

Picmonic is a research-proven audiovisual learning system for up-and-coming and current healthcare and medical professionals. It's designed to help you remember more, maximize retention, and score better on exams with memorable stories, characters, and pictures.
With phonetic association, pairing facts and characters, and creating cohesive stories and relationships, you can learn thousands of complex facts and topics covered by Picmonic's comprehensive and extensive learning library.
Plus, a quick quiz follows every short video to help you test your skills. Then, data from each quiz is factored into your daily review quiz by the intelligent spaced repetition algorithm so you practice recall and master topics.
On the surface, Picmonic and Sketchy may seem similar, but Sketchy is missing a handful of great beneficial features you need in your student life.
Picmonic or Sketchy? Add-ons
Picmonic offers a free Anki add-on to make your flashcard review sessions efficient! Use the add-on to find underlined terms in a pop-up window where you can access Picmonic's fact list, images, and related topics. If you're looking for more in-depth explanations, you can also access videos, quizzes, and resources. Learn how to download the Anki add-on here.
Picmonic or Sketchy? Quizzes
Sketchy quizzes aren't intuitive like Picmonic's. You have to navigate to them after video lessons and create your own—that's too much work if you ask us. Picmonic, on the other hand, has a short quiz after every video to help you remember what you learned! And, as mentioned earlier, data from every quiz you take is used by the intelligent spaced repetition algorithm to create a daily review quiz.
Picmonic or Sketchy? Study scheduling (beta) 
Select premium members are accessing Picmonic's new study scheduler, a tool Sketchy does not have. This adaptive tool helps students learn and review information before a big exam. Just input your test date, number of study days, available time, and exam topics to calculate your study plan. You can easily add, remove, and reorder topics with the study scheduler. Still in beta, click here to learn more about accessing the study scheduler.
Picmonic or Sketchy? Resources 
Picmonic has webinars, tips and tricks, study aids, and videos if you need any additional help or study resources. Sketchy doesn't have much to offer other than its videos and quizzes.
Picmonic or Sketchy? Customizable content
Picmonic allows you to customize your own playlist whereas Sketchy offers pre-determined chapters. With Picmonic, you can also make mnemonics, add characters, and bookmark Picmonics to come back to later.
Picmonic or Sketchy? Community
Picmonic is always evolving. Community members have contributed over 50,000 Picmonics and 1 million videos and pictures to expand Picmonic's coverage. You can access verified community Picmonics in the app.
Picmonic or Sketchy? Comprehensive coverage
Picmonic offers comprehensive coverage for nursing students, medical students, pharmaceutical students, physical therapy students, physician's assistant students, and more! Sketchy only offers five programs, but their topic coverage is significantly smaller than Picmonic's. Picmonic has over 1,000 more topics than SketchyMedical.
Picmonic or Sketchy? Research-proven and pass guarantee
Picmonic is research-proven to increase long-term memory retention by up to 331% and test scores by up to 50%. And, Picmonic has a pass guarantee for the NCLEX®, USMLE®, COMLEX®, and PANCE® exams.
Picmonic or Sketchy? Easy-to-use dashboard
Picmonic is designed for students. The dashboard is user-friendly and helps track your daily progress, overall progress, quiz accuracy, and covered content. Picmonic playlists are categorized by exams, courses, body systems, and textbooks.
Additionally, if you need help staying motivated, Picmonic has an XP feature! Earn achievements and XP for every day you log in, answer a quiz question correctly, watch a Picmonic on educational mode, and more.
Is Sketchy worth it?
While Sketchy uses storytelling with recurring visual-audio symbols and concepts, their videos are up to 30 minutes long and their limited library is most likely missing an important topic you need for school.
Sketchy is also pretty expensive, and with a lack of features, topics, and other programs, it may not be worth it for students looking for a well-rounded study tool.
Is Picmonic worth it?
We sure think so, but we invite you to find out for yourself. Register for Picmonic today to remember more in less time.
CLICK HERE TO TRY PICMONIC FREE
---
Download our mobile app and take Picmonic on the go!
---
(Visited 26,003 times, 1 visits today)