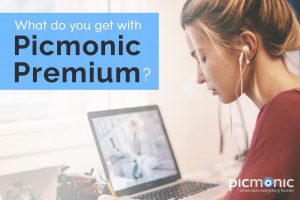 With Picmonic Free, every day you can watch 1 Picmonic of your choice, test your knowledge with 20 multiple choice quiz questions, and train your brain with 1 round of Daily Quiz with Spaced Repetition. But what do you get with Picmonic Premium? So much more! 
---
Unlimited learning 
The most important part of your Picmonic Premium access? Unlimited learning in your area of study! Get through all of the topics you need to know in less time. We organize all of our videos and quizzes into easy-to-follow Playlists. Playlists make it simple to find exactly what you need to learn, when you need to learn it. 


---
Quiz to your heart's content 
After watching all the Picmonics you can handle, make sure you've got all that knowledge locked in with our Rapid Review Quiz! Test yourself with unlimited multiple choice questions each day. 
---
Clear that queue 
Beat the forgetting curve and keep your brain in shape with our Daily Quiz with Spaced Repetition! Refresh your memory on as many topics as you have in your queue.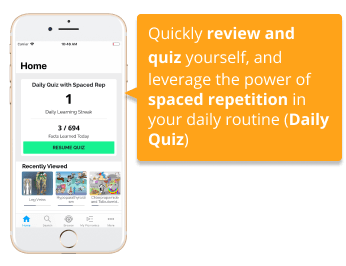 ---
Quiz on a Picmonic Playlist 
We know you're busy. Quiz yourself on an entire Picmonic Playlist, or on your own Custom Playlist, at the click of a button! This one is exclusively available for Picmonic Premium members. 
---
Print & Go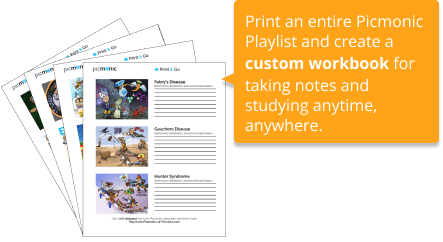 Take your learning away from the screen! Print & Go allows you to print Picmonics with space for notes. So, even when you don't want to spend another second in front of your computer, you can still learn with Picmonic. This feature is only available for Premium members.
---
Mobile apps for iOS and Android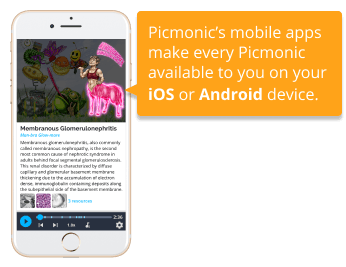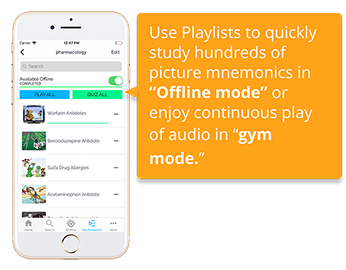 Speaking of learning that fits your busy lifestyle, we have mobile apps! Make any moment a study moment. Although Picmonic Free members can download our apps, only Premium members have unlimited content access. 
Ready to take your learning to the next level? 
(Visited 1,776 times, 1 visits today)