You have your course list set, books ordered, and are ready to crush your upcoming semester of nursing school. Between classes, studying, eating, maybe working, and enjoying life – the spare hours in a day are limited. Maximize your time and set yourself up for success by studying simultaneously with your school books and Picmonic. From learning the fundamentals of the nursing process to the NCLEX® exam, we've talked to hundreds of students who are in nursing programs just like you and gathered the top five favorite Picmonic Playlists and books to study with this semester!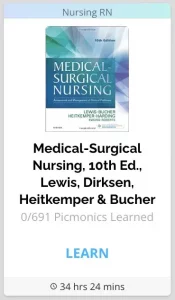 Are you in Medical-Surgical Nursing now, brushing up on information for the NCLEX exam, or see this course coming up in your nursing program soon? If so, the Medical-Surgical Nursing 10th Ed by Lewis, Direksen, Heitkemper, & Bucher is a playlist you must check out! From Fluid, Electrolyte, Acid-Base Imbalance to Diabetes Mellitus, the 34 hours and 24 minutes of content to learn from will have everything you need. As a nursing student, you know being efficient with your time is essential. Dive into this playlist and study smarter.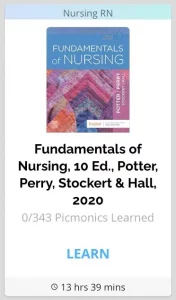 Fundamentals of Nursing is an integral class to establishing the foundation for your nursing career. In this playlist, which follows along the Fundamentals of Nursing 10th Ed. by Potter, Perry, Stockert & Hall, you'll learn topics such as Skin Integrity and Wound Care including R.I.C.E., types of wound healing, and more. Another favorite topic in this playlist is the Fluid, Electrolyte, and Acid-Base Balance where you can learn many important facts for your nursing career, such as how to interpret acid base disorders. Complementing reading the textbook with visual mnemonics will help solidify these foundational topics and facts in your memory for years to come.
Pharmacology and the Nursing Process, 9th Ed., Lilley, Rainforth Collins & Snyder, 2017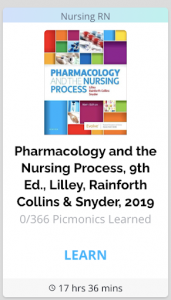 Pharmacology can be a tough class in your program. We hear from many nursing students how they initially dreaded this course. However, if you set yourself up for success with the right resources, this can be an attainable "A"! From understanding pharmacology basics to Analgesic Drugs like Naloxone or Antibiotics; you will have access to the top facts for everything you need to feel confident in your pharm class. One of the best ways to study for pharmacology is testing your recall with practice questions so be sure to complete all the Picmonic Quizzes in this section.
If you are still feeling a bit worried, check out this blog, "How to Ace Pharmacology, Tips from Students Like You," where we gathered nursing study tips and strategies to excel in pharm.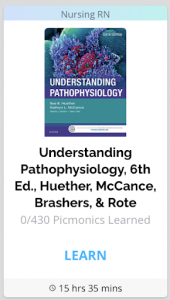 Pathophysiology may be right up there with pharm on the list of tough nursing subjects. When trying to learn the physiological process of diseases or injuries, it's very helpful to have a visual image to link too. View the Picmonics in this playlist and complete the practice questions on the Quiz following each Picmonic to solidify the facts long term. With 15 hours and 35 minutes of Picmonics in this Understanding Pathophysiology Playlist, you will have a plethora of Picmonics at your fingertips to learn from and comprehend the processes so you can ace those upcoming nursing exam questions.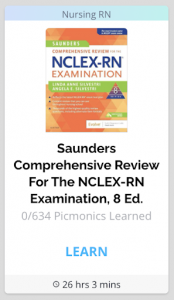 We saved one of the absolute favorites for last. If you're a nurse, you will definitely have the Saunders Comprehensive Review for the NCLEX Examination at some point in your nursing career. A few favorite Picmonic playlists within the NCLEX Review are the Acid-Base Balance & Vital Signs and Laboratory Reference Intervals. With so many lab values and interactions to recall, these Picmonics are an easy way to recall the information while you're taking the exam.
Do you have an NCLEX exam study guide yet? Check out the 4 Weeks to NCLEX Workbook and Study Guide to take away the hassle of planning it out!
Conquer class, exams, boards, and clinicals with confidence by leveraging your nursing study books with Picmonic Playlists. Don't have a Picmonic account yet? That's okay! With Picmonic Free, you can still view 1 Picmonic per day and complete up to 20 quiz questions. Regardless if you just started your program and are dipping your toes into fundamentals or are preparing to pass the NCLEX, Picmonic is an amazing resource for nursing students to maximize your study time and remember facts for days, months, and years as a nurse.
(Visited 1,207 times, 1 visits today)