We asked the founder of Cram Fighter, Amit Mathew, how Cram Fighter can help students create a study plan and tackle long-term studying for high-stakes exams.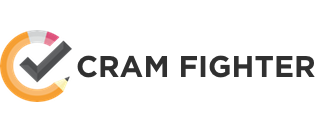 What makes Cram Fighter so useful for students?
Having a study plan means knowing exactly what you need to do each day. Without a study plan, it's easy to get lost in the thousands of tasks you have to do. Choosing a strategy and making a plan is essential for preparing for any high-stakes exam.
But creating a study plan by hand or with Excel can be time-consuming. In addition, since they are studying for weeks or months at a time, students need a flexible study plan that can be reorganized to accommodate unexpected events and changes. With Cram Fighter, we have found a way to alleviate the stress of creating a study plan. Students choose the resources they will be using and input how long they plan on studying each day, and Cram Fighter takes care of the rest. When students fall behind, Cram Fighter automatically readjusts their schedule so that they can stay on track.
How does Cram Fighter integrate with Picmonic?
Picmonic has a ton of great content and Cram Fighter helps students organize all that content into an achievable plan. We support students who want to customize the order in which they watch Picmonics and students who choose to follow Picmonic Playlists. Many of our users choose to integrate Picmonic with supplemental flashcard, question bank, and textbook resources.
How can I get the most out of Cram Fighter?
Some of the most successful students who use Cram Fighter take advantage of our study blocks feature. Study blocks are like mini-schedules within your overall schedule. This can be useful for creating a light studying period during classes, and a dedicated studying period after classes. You can even use study blocks to give a resource a second pass for review. By supplying students with tools like these, we hope students will feel empowered to choose a creative strategy that helps them succeed.
Cram Fighter supports study schedules for the USMLE, COMLEX, Shelf, MCAT, and NCLEX. To create a personalized study plan, visit cramfighter.com and start your 7-day free trial.
(Visited 833 times, 1 visits today)