To maintain aseptic technique, there is an order to donning personal protective equipment (PPE). The proper order of PPE according to the CDC and tested on the NCLEX® is as follows: gown, mask or respirator, goggles or face shield then finally gloves.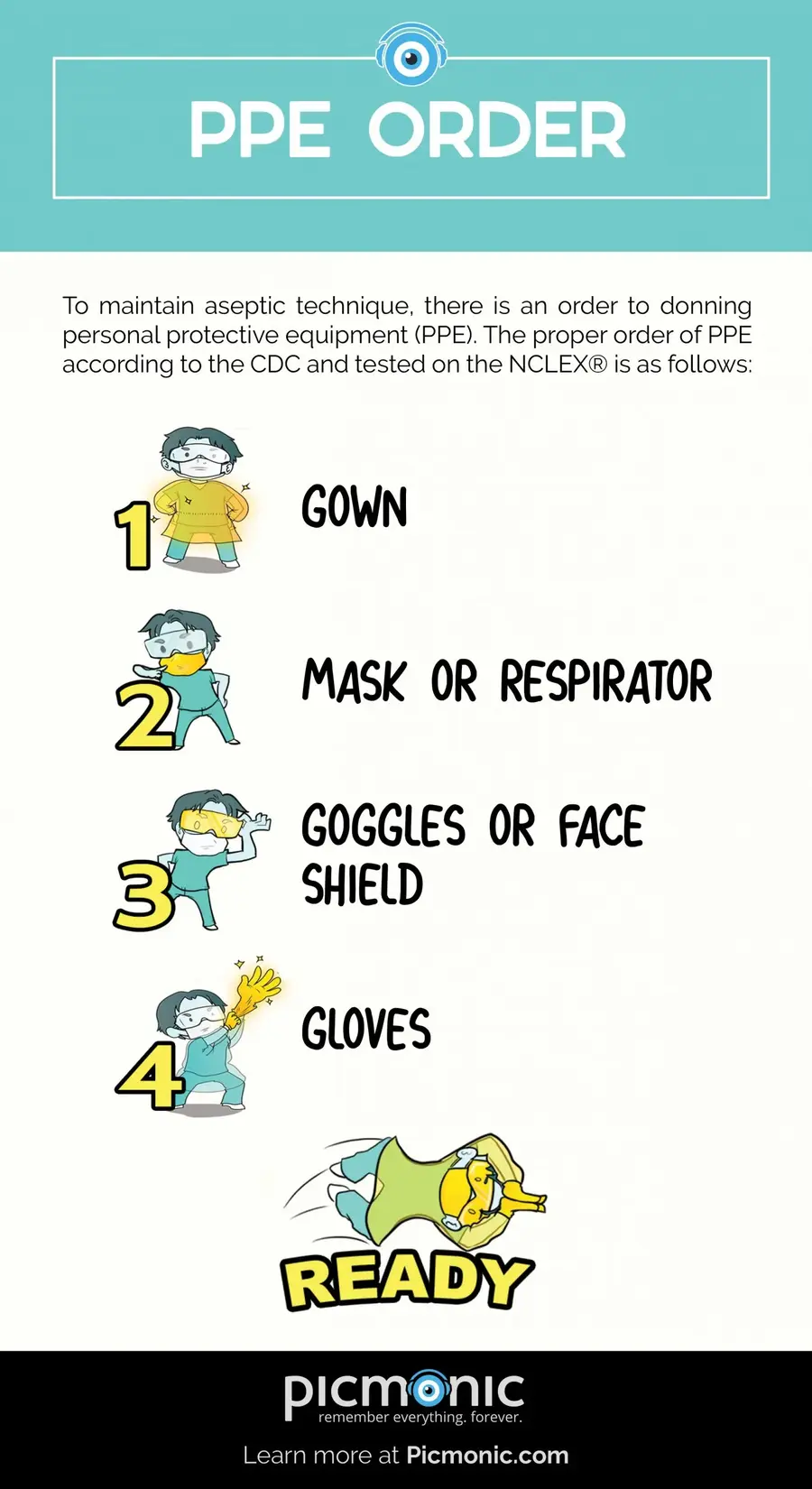 Some topics you will learn in this infographic:
Hand Hygiene:
Hands are excellent reservoirs for organisms to transfer from one thing to another. Performing hand hygiene before and after each patient encounter is a National Patient Safety Goal. Additionally, to help reduce microorganisms being transferred, nails should be kept clean, short, and well manicured. Know your health organization's policy on nail care.
Gown:
A gown is used for all patients that are on contact precaution or when contact with body fluid is anticipated. The gown creates a barrier between the staff member's skin and uniform and the infectious organism. This helps prevent the organism from transmitting onto the staff uniform.
Face Mask:
Masks are used during invasive procedures when respiratory secretions are present or when the patient is on Droplet or Respiratory Precaution. Staff members caring for a patient with possible tuberculosis are required to wear a N95 mask. Being "fit tested" by the organization is required before using these masks.
Gloves:
Gloves are an essential part of standard precautions. Even though gloves are being worn, it is still necessary to wash or gel hands before and after a patient encounter. Ask the patient about Latex allergies and confirm that the proper gloves are being used.
Cough Etiquette:
Educate the patient and family members on proper cough/sneeze etiquette. Have the patient cover his or her nose/mouth when coughing or sneezing and dispose of used tissues properly. Place a surgical mask on a non-compromised respiratory patient when the patient is out of the room. Keep a 3 feet distance between you and a patient that is coughing.
Join for Free
(Visited 2,473 times, 1 visits today)