For your information, as of the last post, this blog will no longer be updated. That doesn't mean we aren't still improving the app, though!
We're CONSTANTLY improving the Picmonic Learning System to make it the best it can possibly be. From bug fixes to performance enhancements to new features, find all the details here to keep up with these exciting releases!
Check out the bold text for major updates.
Want to get involved and help drive the future of Picmonic? Visit the Picmonic Request Forum.
Want to gain early access to the features we're working on next? Head to our beta blog to find out how and see what's on the docket!
December 7th, 2016:

Picmonic Free
Picmonic Free, Picmonic's new trial experience, is officially live and ready! Students will be able to come back every day for new content to view as a part of their trial account.
Fixed a bug that prevented backgrounds from being uploaded by some students.
A bug was causing Facebook login to do some weird stuff. We fixed that one, and it should work perfectly now.
Fixed a bug that caused some videos to be unplayable on the website.
September 29th, 2016:

Picmonic for NP
Beta users will now see Community Picmonics in their Search results! You can see Picmonics made by other students to help cover any topic you need in your classes.
Students can now see all the supported keyboard shortcuts on the Pre-Learn screen that appears before you play or quiz on a Picmonic.
Added a "List View" to the Playlist section of Browse to make browsing them much easier! (We also made some improvements to the menu that appears when you click "Add to Playlist" that should make it easier to use overall!)
Fixed a bug where facts that were added by a student would show up in the Quiz after being deleted.
Fixed a bug that prevented students from closing the Support Chat window if they were viewing a Picmonic.
Clicking the Browse button on a mobile device will no longer automatically open the keyboard.
Volume didn't stay muted when navigating to the next Picmonic. This was fixed.
September 20th, 2016:

Spaced Repetition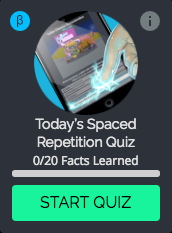 As a student, you want to be SURE the facts you've been quizzing on are locked down cold. We've got your back! Picmonic's Spaced Repetition algorithm will intelligently quiz you on the facts you need to review to cement everything into your brain…forever. You'll find the tile on your Dashboard and in the Browse menu as long as you've Quizzed on Picmonics before. If you want to know more about it, just click here to learn more.
August 18th, 2016:

Picmonic for NP
Picmonic for NP is now available for all of our Nurse Practitioner students!
Fixed a bug to help clarify how many questions are remaining when quizzing on a Pathway or Playlist.
Any Picmonic that is currently being viewed will be highlighted orange when in the "Browse" menu.
Students can now add a Picmonic to any Playlist from within the Player instead of just the currently active Playlist.
Allowed students to unblur characters in Review Mode using the Player Settings Menu in the bottom right of the Player.
August 9th, 2016:

Picmonic, New and Improved

Have you been pinging for our Release Notes updates? It's been awhile! That's because we've been hard at work improving Picmonic as a whole with V3. Without further ado, here's the BIG changes (if you want more in-depth explanation of all the updates):
Navigation around the app has been simplified and streamlined by moving to a new left-hand side nav bar, where you'll be able to easily Browse or Search for topics.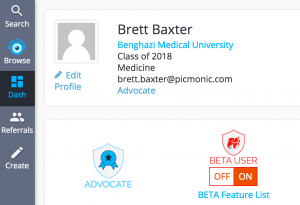 The fundamental way of learning a Picmonic has been improved by the new Play-Quiz loop. Play it first, then Quiz to make sure you have the details memorized (or vica versa).
Progress tracking has been integrated throughout the app and is now based on Quiz results, making it easier to keep track of what you've already learned, and what you should tackle next.

The Android app's nav bar was moved to the bottom of the screen to make navigating easier on mobile. (This change is coming soon for iOS, too.)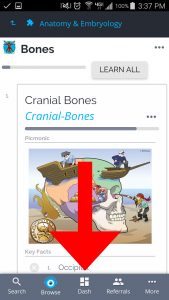 June 15th, 2016:

Search Your Heart
You can now click "See more results" at the bottom of your search results to be taken to our Search Results Page. It looks lean for now, but we're hoping to hear back from students about how else they'd like to use that page in the future. Let us know!
Community Facts are now available for ALL Beta users.
When you use the quick Add a Fact feature at the bottom of the fact list in Player/Learn, it will automatically take you back to the Player when you're done, instead of throwing you into the Generator. It seems like customizing is easier every day.
There were some bugs that caused various parts of the Generator or Player not to scroll automatically for ease of use. We fixed them.
June 8th, 2016:

Community Facts
We've seen thousands of facts added since we gave users the ability to customize Picmonics, and now it's easier than ever to add new facts to your Picmonics using Community Facts.

We've compiled the most commonly suggested facts and are making them publicly available for easy access for you. However, we don't endorse or verify their accuracy, so always check before adding them! For now, only advocates will get a sneak peek, but it's coming very soon!

You can now see a list of brand new Picmoics and Picmonics we've recently updated on your dashboard in the "Currently Trending Picmonics" tile.
Character Cards are the latest improvement to Quiz. These quick and easy fact-character-definition cards will help you learn high-yield facts while flying through the Quiz.
Students can now upload their own background images to the Generator.
Search functionality has been improved with regard to using special characters like apostrophes and hyphens.
Fixed a bug preventing users from recovering a lost password on iOS mobile devices.
Fixed a bug where a black bar would appear at the top of the player while in full-screen mode.
Fixed a bug that stopped Picmonic views from being tracked on iOS mobile devices.
Sometimes the "Currently Trending Picmonics" dashboard tile wouldn't update correctly. We fixed that.
A bug that caused the Mini-Player to contine playing audio after it was closed was fixed.
June 2nd, 2016:

Bug Spray
You can now share Picmonics with friends directly from search results by clicking the "Share" button within the "More" menu.
Students can now indent Facts and Headers within the Generator while making their own Picmonics.
You can now rename Picmonics you've created using the Generator!
Fixed a bug on mobile that would prevent the definitions from appearing in "Review" mode.
Fixed a bug that allowed users to attempt to Quiz on Picmonics they created. For right now, the Quiz can't handle that level of awesome, so we've disabled it.
There was a bug that prevented Headers from being edited in the Generator. That's been fixed.
Reordering Headers in the Generator would sometimes cause Facts to get their order mixed up. We prevented that from happening.
May 26th, 2016:

All-At-Once
The Picmonic Generator now allows you to move and edit all of the characters on the canvas at the same time, without having to select an individual fact. You also can move these characters above or below any/all other characters.
When you create a Picmonic for the first time, you'll be awarded a colorful "Creator" badge. Congratulations, and welcome to the club!
Continued to improve the Quiz logic based on user feedback. Every time our Quiz gets smarter, YOU get smarter, too.
Searching for things in the app that include hyphens (like Niemann-Pick disease) would return some highly irrelevant results. This has been fixed.
May 20th, 2016:

It's In The Details
You can now easily share any Picmonic with your friends and classmates using the Share button in the toolbar!
Integrated a status/progress modal into the Picmonic Generator, indicating if you've missed any steps in the creation process.
Added over 1,500 unique backgrounds into the Picmonic Generator.
Fixed a bug where the login modal would be cut off on some screen sizes.
Improved search logic and the experience of searching for Pathways. Now, when you click a path in the search results, it will automatically scroll down to where that path is when you click on it. No more scrolling for days!
There was a bug causing the "Info" button to disappear. We fixed that.
A bug that caused the Tab Title in Chrome to display a different title than the page it was actually on has been fixed.
May 17th, 2016:

It's In The Details
Students can now quickly Add a Fact to a Picmonic while in the Player in "Learn" mode, without having to click Customize Picmonic. This cuts out a few extra steps when you want to quickly add a fact.
Added audio chimes into the Quiz to give you instant feedback on right and wrong answers! A mute button is up in the top right if you're not into the audio feedback.
We're also testing a new grid layout for Pathways. Only a select group of people will see it for now, but if you do, let us know what you think!
The Mini-Player animation algorithm was improved, now showing you the character being discussed, then panning back out to give you a full overview of the Picmonic. Check it out by learning a Picmonic in Quiz (requires beta access).
While Customizing a Picmonic, students can now move their characters in front of or behind any of their other characters.
Using the "Flag" icon on each fact, students can easily report medical inaccuracies if they find them within a Picmonic, helping to ensure that Picmonic is the best and most up-to-date resource for students.
Picmonics would occasionally add to users' playlists in the reverse order from a list (such as from Pathways). This has been fixed.
Fixed a bug where students could add blank facts or headers to their Picmonics.
Fixed some buttons misbehaving around the app on mobile.
Sometimes the notes/comments section would overlap with the Picmonic player. It's fixed!
Made improvements to Pathways search results.
May 6th, 2016:

The Picmonic Generator
The Picmonic Generator Beta is finally here! You may have heard whispers of the ability to create your own Picmonics from scratch, and now it has arrived for a select few. Campus Advocates and Beta Testers have access to the Picmonic Generator and will see the "Create" button in the top of the app on the web! Go Picmonify knowledge…
You asked, we answered! Students can now reset their Quiz stats to retest themselves to their heart's content. This was a big ask from our students via the Beta Program, and we're happy to deliver it to our students!
Students can now upload their own images to create new characters in the Picmonic Generator and to Customize a Picmonic. If we don't have a character that's a perfect fit for a fact, just upload your own!
The top 3 Pathways results will now appear in search results, making it easier than ever for you to jump to a specific Path.
Fixed a bug that prevented saving settings within the Picmonic Generator.
Continued to fix issues in audio timings in Picmonics where the last fact would stay highlighted during the "recap."
May 3rd, 2016:

Odds and Ends
Our Picmonic Campus Advocates received early access to our new Picmonic Generator, allowing them to create their own Picmonics from scratch. Jealous? Apply here to join the team.
Made minor changes to the Pricing page for Nursing and Medicine students.
We streamlined the design of the Playlist "custom order/move" functionality (to reorder Picmonics within a playlist).
When you add a header to a Picmonic, the auto-suggested list has been simplified to only include headers instead of facts (because that was confusing).
When viewing a Picmonic in the "mini-player" (such as in the Quiz complete screen), the full-screen icon was updated to "Launch Player" for clarity.
The robots at Google will now more accurately name our web pages when you're searching for them. You shouldn't notice MUCH of a difference, but if you share Picmonic links on social media, you may see it in action.
April 29th, 2016: Logging in Never Looked So Good
We've updated the login and registration page design and functionality to improve the speed at which you can get in the app to start studying.
Long names on the list of Picmonics in Pathways were causing some text to overlap with drop down arrows. This has been fixed.
Removed the large play button on the images of Picmonics in Pathways so students can use that screen to very briefly review Picmonics.
Irrelevant books would show up for students if a Picmonic was referenced by those books. This has been fixed so students will only see books relevant to them.
April 14th, 2016: Add a Character. Add SO MANY Characters.
Add a Character received a beautiful design update this week, plus an update to give you more options to add to your Picmonics. Although we already had a substantial library of characters and images for you to add, we've enhanced what we offer by allowing students to use Pixabay images. The Add a Character world is officially your oyster.
Made some design changes for the Quiz screen. It's MUCH prettier now, and easier to use.
The store (or checkout) page has been redesigned to make it easier to use
A lot of links that were broken have been updated to redirect to an appropriate new page with similar information. We considered redirecting them all to tomsdog.com, but decided that might not be helpful.
The video on the homepage wouldn't close after it was done playing. Our video is pretty awesome, but still, less than ideal. This has been fixed.
Playlists were acting a little funky when you moved the order of the Picmonics around. The funk is gone (unless you're talking about Alpha Agonist-style funk, in which case the funk is still very much alive…but in a good way).
Eagle-eyed students spotted a weird font change while changing graduation year on pricing page, and we've fixed it.
There was a bug associated with resetting your password, but have no fear: it's fixed now.
Prior Releases: (Everything else…)
Want to see even further back in time? Here's the cliffsnotes of big product updates that users asked for over the last six months…
03/22/2016: Added ability to Quiz on a custom Playlist.
02/23/2016: Search auto-fill functionality was added to our iOS app. Who has time to type entire words these days?
02/18/2016: Added new Player Settings that allow students to customize their experience in the Picmonic Player. Here are a few of the settings we added: change the brightness of the mask, hide the guided learning popups between modes, show or hide definitions while playing audio, and decide whether characters are revealed one at a time during the learning experience or to see them at all times.
02/16/2016: Added hotspot links to other related Picmonics, or what we fondly refer to as "Ditto." Ditto allows you to quickly view "similar" or "related" Picmonics from any Key Fact or Topic.
12/17/2015: Added Pathways into our iOS app.
10/21/2015: Launched Picmonic Android app.

10/12/2015: Added a "Trending Picmonics" widget to the dashboard so students can see which Picmonics are trending for them, their school, and globally.
10/08/2015: Added USMLE Step 2 CK First Aid references and created a new USMLE Step 2 CK Pathway in order to help students crush their MS3 year of med school.
10/08/2015: Added a Pathway to First Aid that put all of our Picmonics in First Aid page number order.
09/24/2015: Launched Picmonic Pathways, giving students a more streamlined and guided learning experience.
09/11/2015: Our iPhone and iPad apps were given the ability to continuously play audios. Just click the "Play All" option! This is affectionally referred to as "gym mode" around the office.
09/03/2015: Added in the My Notes section in the Menu. This is a central location where all Notes are viewable, and even printable.
09/03/2015: There is now a "Resources" section in the Menu of all Premium members where they can find helpful, relevant resources.

08/07/2015: Added the ability to view the Player in fullscreen mode after a student threatened to make us watch "Bridges of Madison County" until our eyes bled unless we brought this feature to life. *Editor's Note: Meryl Streep is a national treasure!
08/04/2015: V2.2 Launched! We revamped the Picmonic Player by making it lightning fast and easier to use. Learning modes and features have moved to the top, and transitions between learning modes were added. Enhancements were also made to the popups that show up in between Player modes to help transition you through the learning process. The Notes feature was updated to allow for images (and even gifs) to be inserted! We also combined the Notes and Comments sections into one to make it easier to keep all your information in one convenient place.
05/19/2015: Added Creative Audios into iOS app.
03/24/2015: Launched a Referral Program so that users can spread the word about Picmonic, hook their classmates up with a deal, and score free Premium Access in the process. Students may access their referral tools on their dashboard.
03/19/2015: Added audio speed settings into our web and iOS application
03/02/2015: Added keyboard shortcuts throughout the Player to make your studying more efficient!
02/15/2015: We officially launched our iOS app.
02/04/2015: We officially launched Picmonic for Nursing.
01/28/2015: V2.1 was launched. Easier navigation and lots of little tweaks add up to a better user experience. Plus, the Picmonic Player modes were updated to include: Learn, Review, and Master.
12/10/2015: Added in the My Schools page so that students could share custom playlists and post comments straight to their classmates.
11/24/2014: Added the ability to download playlists for offline use on our iOS beta app.
07/16/2014: We launched our V2 web-app. This included upgrades like better organization, increased speed, improved look and feel, and more options to suit student needs.
If you ever have any questions about new releases, features, or if you notice a bug while using Picmonic, please don't hesitate to contact us at feedback@picmonic.com. We're happy to answer any questions or help in any way we can!
(Visited 491 times, 2 visits today)