Introducing Picmonic Lite Mode: a simple, speedier version of Picmonic's core learning experience on the web, using cutting-edge technology. Unequal digital access and relative affordability of data mean that sometimes applications can run slower or not be as accessible as students need them to be. That's why we created Picmonic Lite!
With Picmonic Lite, you can Search/Browse the Library → Play a Picmonic → then Quiz yourself.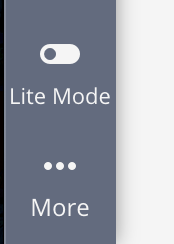 You can find the Lite Mode toggle on the bottom left of your toolbar in the web version, just above the More menu.
Choose Lite Mode on computers, tablets, and mobile devices on most internet browsers (Chrome/Safari) when you need a speedier version of Picmonic that's focused on the basics – Search, Browse, Play, and Quiz. Jumping back and forth between Lite Mode and the normal Picmonic experience is easy. Your stats will sync automatically, but make sure you refresh your browser (you can't be logged into both lite and normal mode simultaneously).
(Visited 674 times, 1 visits today)