With the COVID-19 pandemic closing campuses across the country, medical schools in the US have had to temporarily curtail training. While remote learning options can be used to deliver first and second year lectures, third and fourth year clinical rotations have been put on hold. And institutions are being encouraged to allow fourth year students to graduate early to help as interns to join the ranks of healthcare professionals fighting on the front lines, following similar moves in Italy and Britain in early March 2020.
New York University Grossman School of Medicine was the first to announce their decision on March 24, 2020 to allow students the choice to graduate early and work as interns in their internal medicine and emergency medicine programs at NYU Langone Medical Center and other locations across Manhattan, where healthcare facilities have been particularly hard hit with an onslaught of COVID-19 cases. Two days later, Columbia University Vagelos College of Physicians and Surgeons, also located in Manhattan made a similar announcement, allowing graduates to work temporarily at the New York Presbyterian Hospital.
With a surge in COVID-19 cases overwhelming hospitals in the New York area, 13 other medical schools across the state are evaluating their roster of students for early graduation eligibility as well, so they can be prepared to help fight on the front lines. Here is a full list of medical schools in New York state.
To date, at least 8 other medical schools across the country have also announced plans for early graduation of fourth year students, as long as students have demonstrated that they have met the objectives for their school's program (as required by the Liaison Committee on Medical Education, LCME, an accrediting body for medical schools in the United States and Canada). As of April 1, more schools are considering making the offer, including University of Chicago Pritzker School of Medicine and University of Colorado School of Medicine.
On April 7, the Federation of State Medical Boards published a list of actions each state has taken to modify their licensure requirements in light of the pandemic. Some of the waivers will allow medical personnel from other states to practice across state lines, and will grant temporary or provisional licenses in certain states to students who qualify. On April 3, the Accreditation Council for Graduate Medical Education (ACGME) published guidelines as well.
Here is a list of schools offering early graduation for their fourth year medical students, as reported by public news sources and school press releases we have found to date (in alphabetical order):
Albany Medical College*
Albert Einstein College of Medicine*
Boston University School of Medicine
Columbia University Vagelos College of Physicians and Surgeons*
CUNY School of Medicine*
Harvard Medical School
Icahn School of Medicine at Mount Sinai*
Jacobs School of Medicine and Biomedical Sciences, University at Buffalo, SUNY*
NYIT College of Osteopathic Medicine*
New York Medical College*
New York University Grossman School of Medicine*
Oregon Health & Science University
Renaissance School of Medicine at Stony Brook University*
Rutgers Biomedical and Health Sciences
SUNY Downstate Medical Center*
SUNY Upstate Medical University*
Touro College of Osteopathic Medicine*
Tufts University School of Medicine
University of Arizona College of Medicine
University of California Los Angeles David Geffen School of Medicine
University of Rochester School of Medicine and Dentistry*
Zucker School of Medicine at Hofstra/Northwell*
*schools in NY state. Albany, CUNY, SUNY, Touro and Rochester have not confirmed early graduation, although the governor of NY has signed an executive order allowing them to do so.
If there is a school that should be on this list, please email us at feedback@picmonic.com with a link to the announcement and we will update the list.
LCME has published guidelines for schools considering early graduation for its students to help during the COVID-19 crisis. However, allowing students to graduate early may not be as easy of a decision as it sounds. A new medical school graduate can work as an intern, but must work within an accredited residency program. The Accreditation Council for Graduate Medical Education (ACGME) reminds schools that temporary appointments might violate previously agreed upon match participation agreements.
Some schools are still evaluating their options as to whether they can allow their students to graduate early to fight on the front lines of the COVID-19 crisis. Cooper Medical School of Rowan University sent an email to students to see if they were interested in early graduation. Some schools have decided not to graduate medical students early, since licensing requirements and residency commitments complicate the situation. Washington state's medical board is not changing its licensing requirements to allow students to enter their residency training early. University of Washington cites an inability to onboard new interns at this time and the shortages of personal protective equipment (PPE) as reasons to not accelerate their timelines.
While the American Association of Medical Colleges (AAMC) has advised schools to keep students from participating in activities that involve COVID-19 patient contact, students are finding ways to help others during the crisis. If you are a medical student or nursing student wondering how you can help during the coronavirus pandemic, consider volunteering to support community health efforts or start your own community initiative, as students in Rhode Island and Philadelphia have done. The Governor of California is inviting healthcare professionals, nursing students and medical volunteers to join the California Health Corps. There may be similar initiatives in your state.
For all of the students like you who have successfully adjusted to studying at home, those who are volunteering to help others and those who are already on their way to hospitals as interns, we salute you. We are inspired by your generous spirit and the power you have to do good in this world. Thank you for choosing healthcare as your career path. The world needs you. Thank you for being you.
Virtual commencement ceremony for University Of Massachusetts Medical students was held on Tuesday March 31.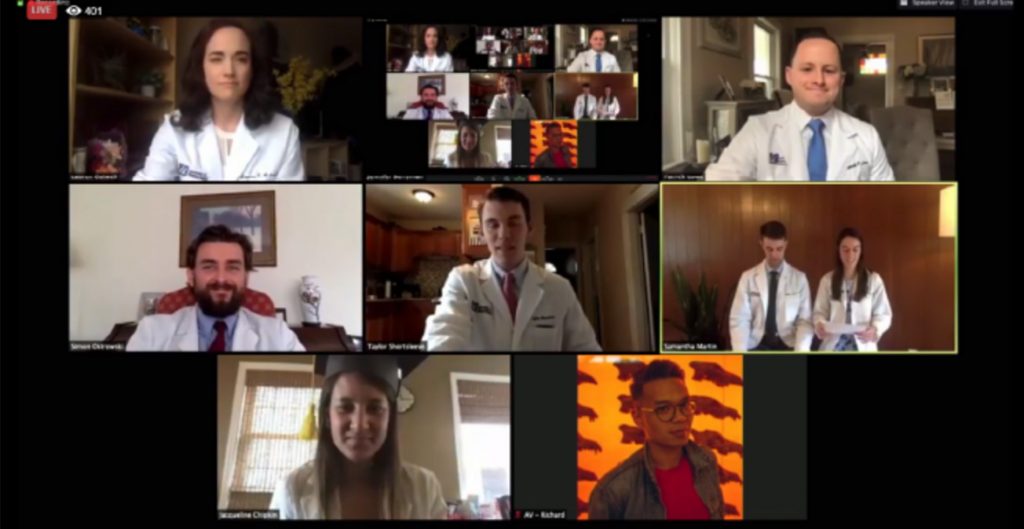 Keep in touch! As we hear from students and healthcare professionals about the amazing work that they are doing in the world, we will share their inspiring stories in this blog and on our social channels.
(Visited 204 times, 1 visits today)