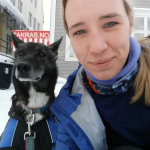 Dasha Kenlan is a current M4 at University of Kentucky College of Medicine. She matched into Anesthesiology at the University of Utah. We reached out to Dasha to learn more about her Match Day experience.
Tell us all about Match Day. What was it like?
I had just gotten back from a trip to Norway the night before, and our match celebration was that Friday. I walked (ran) up to the stage, tripped, and couldn't get my letter out fast enough. Then I read it, and I was stoked.
What did you do to prepare for being matched into anesthesiology?
The most important thing was to take advantage of all of the things available to you at your medical school. Extracurriculars helped me with research projects, networking, and building a great CV for residency.
I also highly recommend doing something fun to keep your mind off the Match the 2-3 weeks before Match Day. I think I would have gone crazy if I was at home this year!
Do you have any advice for students who are now beginning their medical journey?
Procrastinating is always tempting, but never the best option. I totally should have started Picmonic first year. Instead, I started somewhere midway through 2nd year, and while it was helpful, it would have been better to go the long course. I will 100% use it in residency for those hard to remember drugs and bugs.
TRY PICMONIC FREE TO MATCH AT YOUR TOP CHOICE
---

Download our mobile app and take Picmonic on the go!




(Visited 278 times, 1 visits today)