Ace Your PANCE Prep Pearls: 2nd Ed, 2017 Classes and Exams with Picmonic: #1 Visual Mnemonic Study Tool for Physician Assistant Students
With Picmonic, facts become pictures. We've taken what the science shows - image mnemonics work - but we've boosted the effectiveness by building and associating memorable characters, interesting audio stories, and built-in quizzing. Whether you're studying for your classes or getting ready for a big exam, we're here to help.
PANCE Prep Pearls: 2nd Ed, 2017 | Physician Assistant School Study Aid
Linezolid (Zyvox)
Oxazolidinone Antibiotic

Binds 23S rRNA of 50S Subunit

Inhibits Protein Synthesis

Gram-Positive Organisms

MRSA

VRE (Vancomycin Resistant Enterococci)

Bone Marrow Suppression

Decreased Platelet Count

Peripheral Neuropathy

Lactic Acidosis

Serotonin Syndrome

Avoid Tyramine Containing Foods
4 mins
Chloramphenicol
Bacteriostatic

Inhibits 50S Peptidyltransferase Activity

Meningitis

Rocky Mountain Spotted Fever in Pregnant Women

Anemia

Aplastic Anemia

Gray Baby Syndrome due to Decreased UDP-Glucuronyl Transferase

Resistance Caused by Plasmid Encoded Acetyltransferase
2 mins
Fluoroquinolones Antibiotics
-floxacin

Inhibits Topoisomerase II & IV

Bactericidal

Gram-negative Rods

Pneumonia

Gastrointestinal Infections

Urinary Tract Infection

Genital Infections

Levofloxacin

Ciprofloxacin

Has Pseudomonas Coverage

Avoid Polyvalent Cations
3 mins
Metronidazole
Bactericidal

Forms Free Radical Toxic Metabolites

Damages DNA

Giardia lamblia

Entamoeba Histolytica

Trichomonas

Gardnerella

Anaerobes

Metallic taste

Disulfiram like Reaction with Alcohol
2 mins
Daptomycin (Cubicin)
Lipopeptide Antibiotic

Disrupts Cell Membrane

Causes Rapid Depolarization

Gram-Positive Cocci

MRSA

Myopathy

Rhabdomyolysis

Peripheral Neuropathy

Inactivated by Surfactant

Not Used (Avoid) for Pneumonia
3 mins
Trimethoprim
Bacteriostatic

Inhibits Bacterial Dihydrofolate Reductase

Causes Sequential Block of Folate Synthesis

Used in Combination with Sulfamethoxazole

Combination Used For Recurrent Urinary Tract Infections

Shigella

Salmonella

Pneumocystis Jiroveci Pneumonia

Decrease in Red and White Blood Cells

Alleviated with Leucovorin Rescue
2 mins
Ace Your Physician Assistant Classes & Exams with Picmonic: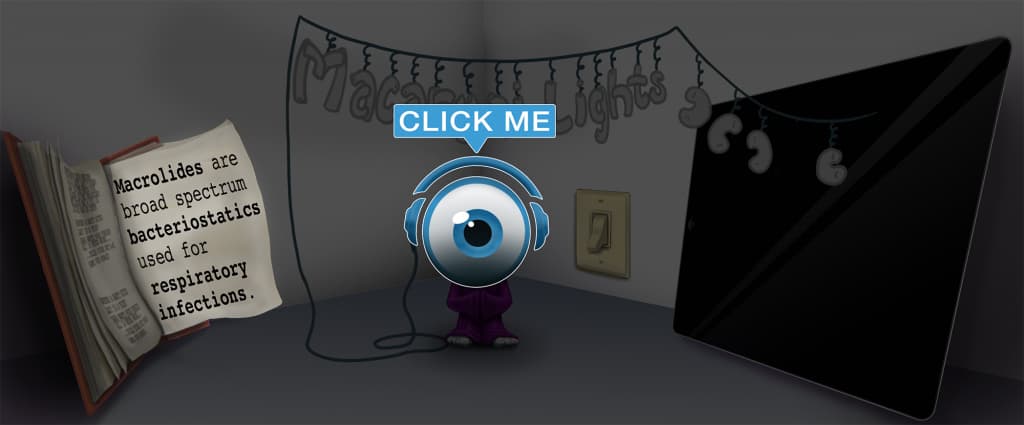 Choose the #1 Physician Assistant student study app.
Works better than traditional Physician Assistant flashcards.