Ace Your Saunders Comprehensive Review For The NCLEX-RN Examination, 8 Ed. Classes and Exams with Picmonic: #1 Visual Mnemonic Study Tool for Registered Nurse (RN) Students
With Picmonic, facts become pictures. We've taken what the science shows - image mnemonics work - but we've boosted the effectiveness by building and associating memorable characters, interesting audio stories, and built-in quizzing. Whether you're studying for your classes or getting ready for a big exam, we're here to help.
Saunders Comprehensive Review For The NCLEX-RN Examination, 8 Ed. | Registered Nurse (RN) School Study Aid
Asthma Assessment
Triggers (Cold air, Dander, Dust, Infection, Mold, Pollen, Smoke)

Shortness of Breath (SOB)

Tachypnea and Tachycardia

Wheezing

Diaphoresis

Accessory Muscles

Decreased Pulmonary Function Tests
2 mins
Montelukast (Singulair)
Leukotriene Receptor Blocker

Allergic Rhinitis

Asthma Prophylaxis

Exercise Induced Bronchospasm

Fatigue

Headache

Mood Changes

Suicidal Thoughts

Increased Risk of Churg Strauss
2 mins
Albuterol (Proventil)
Short-Acting Beta-2 Agonist

Bronchospasm

Asthma

Angina

Tachycardia

Tremor
1 min
Anticholinergics
B.O.AT.S Acronym

Benztropine

Parkinson's Disease

Oxybutynin

Decrease bladder spasms

Atropine

Mydriasis and Cycloplegia

Scopolamine

Motion Sickness
1 min
Anticholinergics Continued
Glycopyrrolate

Reduces Airway Secretions

Ulcer Treatment

Ipratropium

Asthma and C.O.P.D

Dicyclomine

Hyoscyamine

Irritable Bowel Syndrome
1 min
Prednisone (Glucocorticoids)
Glucocorticoid

Inflammatory Conditions

Organ Transplant Rejection

Cataracts and Glaucoma

Cushing's Syndrome

Osteoporosis

Immunosuppression

Hyperglycemia

Ulcers

Adrenal Insufficiency

Taper Gradually
2 mins
Cromolyn (Mast Cell Stabilizers)
Mast Cell Stabilizer

Asthma Prophylaxis

Bronchial Inflammation

Allergic Rhinitis

Cough

Bronchospasm

Fixed Schedule Administration
2 mins
Theophylline (Theo-24)
Bronchial Smooth Muscle Relaxation

Asthma

Insomnia

Restlessness

Arrhythmias

Seizures

Narrow Therapeutic Range

Monitor Plasma Levels
1 min
Rifampin
Tuberculosis (TB)

Blocks RNA Polymerization

Haemophilus influenzae Type B

Leprosy

Meningitis

P450 inducer

Red-orange urine
55 secs
Isoniazid (INH)
Interferes with DNA Metabolism

Tuberculosis (TB)

Optic Neuritis

Nausea and Vomiting

Hepatotoxicity

Peripheral Neuropathy

Vitamin B6 Prophylaxis

Monitor AST/ALT
2 mins
Ethambutol (Myambutol)
Inhibits RNA Synthesis

Bacteriostatic

Tuberculosis (TB)

Optic Neuritis

Red/Green Color Blindness

Gouty Arthritis

Monitor Vision Acuity
2 mins
Ace Your Registered Nurse (RN) Classes & Exams with Picmonic: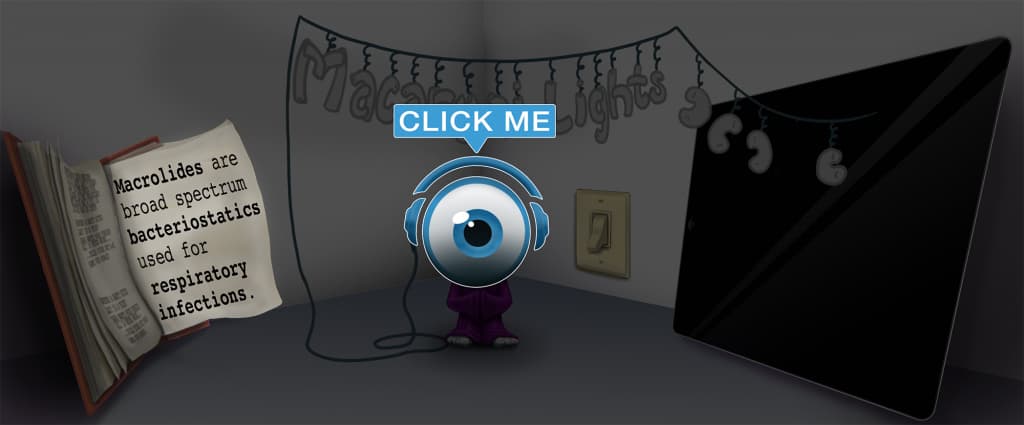 Choose the #1 Registered Nurse (RN) student study app.
Works better than traditional Registered Nurse (RN) flashcards.