Ace Your Pharmacotherapeutics for Advanced Nursing Practice, 1st. Ed., Demler & Rhoads, 2018 Classes and Exams with Picmonic: #1 Visual Mnemonic Study Tool for Nursing (RN) Students
With Picmonic, facts become pictures. We've taken what the science shows - image mnemonics work - but we've boosted the effectiveness by building and associating memorable characters, interesting audio stories, and built-in quizzing. Whether you're studying for your classes or getting ready for a big exam, we're here to help.
Pharmacotherapeutics for Advanced Nursing Practice, 1st. Ed., Demler & Rhoads, 2018 | Nursing (RN) School Study Aid
Aminoglycoside Overview
End in "-mycin"

Gentamicin

Neomycin

Amikacin

Tobramycin

Streptomycin

Bactericidal

Severe Gram Negative Infections

Bowel Surgery Prep
1 min
Cephalosporins
Starts with "Cef-"

Bactericidal

Gram-Positive and Gram-Negative Infections

Allergic Reactions

Thrombophlebitis

Bleeding

Renal Impairment

Avoid IV Calcium with Ceftriaxone

No Alcohol
2 mins
Imipenem and Meropenem (Carbapenems)
Carbapenems

Broad-spectrum Antibiotic

Bactericidal

Gram Positive and Gram Negative Infections

GI Distress

Suprainfections

Seizures

Penicillin Allergy

IV or IM Route

Imipenem Combined with Cilastatin
3 mins
Macrolides
Bacteriostatic

Erythromycin

Azithromycin

Clarithromycin

Bind to 23S rRNA of 50S subunit

Inhibit protein synthesis by blocking translocation

Gram-Positive Cocci

Atypical pneumonia

Chlamydia

Resistance by methylation of 23S rRNA binding
1 min
Penicillin
Weakens Cell Wall

Gram-Positive Infections

Prophylaxis

Pain at IM Injection Site

Allergic Reaction

Skin Tests

Allergy ID

Medication Education
2 mins
Ampicillin and Amoxicillin
Aminopenicillin

Broad Spectrum Penicillin

Gram-Positive and Some Gram-Negative Infections

Rash

Diarrhea

No Effect Against Staph Aureus

Often combined with Beta Lactamase Inhibitor

Allergic Reaction
2 mins
Fluoroquinolones
End in "-floxacin"

Bactericidal

Variety of Infections

GI Distress

Photosensitivity

Achilles Tendon Rupture

Pregnancy

Children

Myasthenia Gravis

Avoid Milk Products or Antacids

Slow IV Infusion
2 mins
Silver Sulfadiazine (Silvadene) and Mafenide Acetate (Sulfamylon)
Topical Antimicrobial

Burns

Open Wound Care

Mafenide

Pain

Acidosis

Administer Analgesic Prior to Wound Care
1 min
Trimethoprim
Bacteriostatic

Inhibits Bacterial Dihydrofolate Reductase

Causes Sequential Block of Folate Synthesis

Used in Combination with Sulfamethoxazole

Combination Used For Recurrent Urinary Tract Infections

Shigella

Salmonella

Pneumocystis Jiroveci Pneumonia

Decrease in Red and White Blood Cells

Alleviated with Leucovorin Rescue
2 mins
Tetracyclines Overview
End in "-cycline"

Bacteriostatic

Infectious Diseases

Acne

Periodontal Disease

Avoid Milk, Antacids, Iron

Sunlight Protection
1 min
Tetracycline Toxicities
Inhibition of Bone Growth in Children

Teratogen

Discoloration of Teeth

Photosensitivity

GI Distress
2 mins
Tigecycline (Tygacil)
Glycylcycline Antibiotic

Binds 30S Subunit

Inhibits Protein Synthesis

Severe Infections

Broad Spectrum Coverage

Anaerobic & Multidrug-Resistant Organisms

Deep Tissue Penetration

GI Distress

Severe Nausea and Vomiting

2nd Line Agent
3 mins
Daptomycin (Cubicin)
Lipopeptide Antibiotic

Disrupts Cell Membrane

Causes Rapid Depolarization

Gram-Positive Cocci

MRSA

Myopathy

Rhabdomyolysis

Peripheral Neuropathy

Inactivated by Surfactant

Not Used (Avoid) for Pneumonia
3 mins
Vancomycin
Inhibits Bacterial Cell Wall Synthesis

Serious Gram-Positive Infections

Nephrotoxicity

Ototoxicity

Red Man Syndrome

Thrombophlebitis

Culture Samples First

Infuse IV Over 60 Minutes

Take Around the Clock
2 mins
Vancomycin Side Effects & Toxicity
Thrombophlebitis

Nephrotoxicity

Ototoxicity

Diffuse Flushing Called Red Man Syndrome

Prevent with Antihistamine

Prevent with Slow Infusion
2 mins
Rifampin
Tuberculosis (TB)

Blocks RNA Polymerization

Haemophilus influenzae Type B

Leprosy

Meningitis

P450 inducer

Red-orange urine
55 secs
Clindamycin
Bacteriostatic

Binds 50S Ribosomal Subunit

Gram-Positive Infections

Anaerobic Infections

Rash

Pseudomembranous Colitis

C. Difficile (Associated Diarrhea)

Arrhythmias

Blood Dyscrasias

Monitor for Diarrhea
3 mins
Ace Your Nursing (RN) Classes & Exams with Picmonic: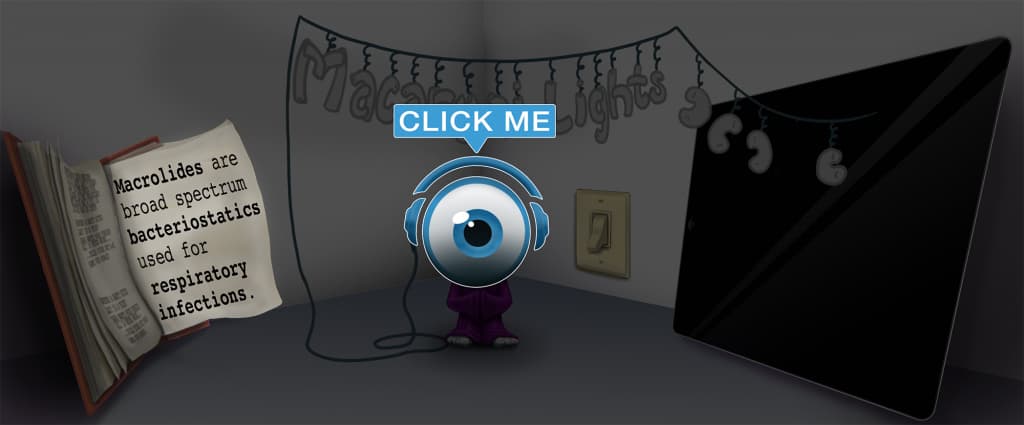 Choose the #1 Nursing (RN) student study app.
Works better than traditional Nursing (RN) flashcards.