Ace Your Pharmacology and the Nursing Process, 9th Ed., Lilley, Rainforth Collins & Snyder, 2019 Classes and Exams with Picmonic: #1 Visual Mnemonic Study Tool for Nursing (RN) Students
With Picmonic, facts become pictures. We've taken what the science shows - image mnemonics work - but we've boosted the effectiveness by building and associating memorable characters, interesting audio stories, and built-in quizzing. Whether you're studying for your classes or getting ready for a big exam, we're here to help.
Pharmacology and the Nursing Process, 9th Ed., Lilley, Rainforth Collins & Snyder, 2019 | Nursing (RN) School Study Aid
Skin Functions
Thermoregulation

Protection

Innate Immune Protection

Synthesize Vitamin D

Water and Salt Excretion

Dilated Capillaries are a Blood Reservoir
2 mins
Skin Anatomy
Epidermis

Keratinocytes

Melanocytes

Dendritic Cells

Merkel Cells

Dermis

Sweat Glands

Hair Follicles

Sebaceous Glands

Hypodermis
3 mins
Neomycin Sulfate
Aminoglycoside Antibiotic

Topical Infection

Intestinal Surgery Prophylaxis

Ototoxicity

Nephrotoxicity

Rash

Blood Dyscrasias

GI Superinfection
2 mins
Silver Sulfadiazine (Silvadene) and Mafenide Acetate (Sulfamylon)
Topical Antimicrobial

Burns

Open Wound Care

Mafenide

Pain

Acidosis

Administer Analgesic Prior to Wound Care
1 min
Clindamycin
Bacteriostatic

Binds 50S Ribosomal Subunit

Gram-Positive Infections

Anaerobic Infections

Rash

Pseudomembranous Colitis

C. Difficile (Associated Diarrhea)

Arrhythmias

Blood Dyscrasias

Monitor for Diarrhea
3 mins
Minoxidil (Loniten, Rogaine)
Vasodilates Arterioles

Severe Hypertension

Baldness

Reflex Tachycardia

Blood Volume Expansion

Hypertrichosis

Pericardial Effusion

Rash

Give with Beta Blocker and Diuretic
2 mins
ABCDEs of Melanoma
Asymmetry

Border

Color

Diameter

Evolving
1 min
Types of Wound Healing
Acute

Chronic

Primary Intention

Approximated Edges

Secondary Intention

Edges Not Approximated

Tertiary Intention

Delayed Closure due to Infection and Necrosis
2 mins
Ace Your Nursing (RN) Classes & Exams with Picmonic: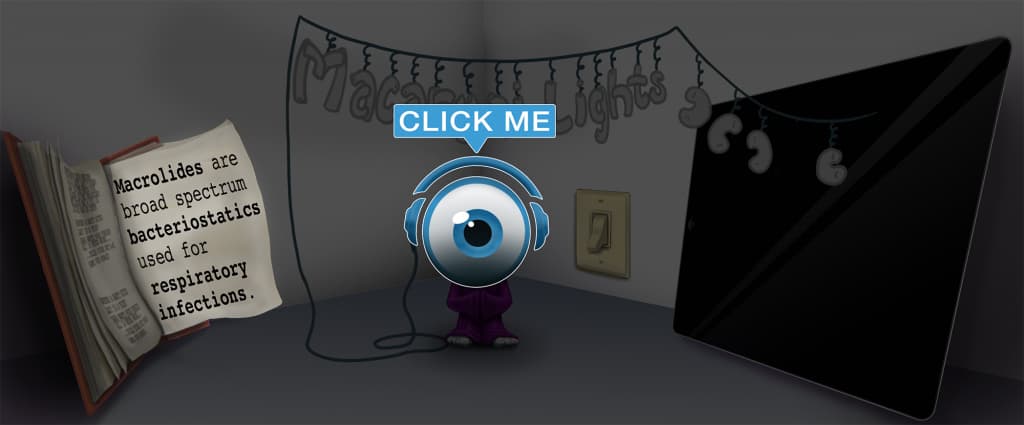 Choose the #1 Nursing (RN) student study app.
Works better than traditional Nursing (RN) flashcards.