Ace Your Pharmacology: A Patient-Centered Nursing Process Approach 10th Ed., McCuistion Classes and Exams with Picmonic: #1 Visual Mnemonic Study Tool for Nursing (RN) Students
With Picmonic, facts become pictures. We've taken what the science shows - image mnemonics work - but we've boosted the effectiveness by building and associating memorable characters, interesting audio stories, and built-in quizzing. Whether you're studying for your classes or getting ready for a big exam, we're here to help.
Pharmacology: A Patient-Centered Nursing Process Approach 10th Ed., McCuistion | Nursing (RN) School Study Aid
Penicillin
Weakens Cell Wall

Gram-Positive Infections

Prophylaxis

Pain at IM Injection Site

Allergic Reaction

Skin Tests

Allergy ID

Medication Education
2 mins
Ampicillin and Amoxicillin
Aminopenicillin

Broad Spectrum Penicillin

Gram-Positive and Some Gram-Negative Infections

Rash

Diarrhea

No Effect Against Staph Aureus

Often combined with Beta Lactamase Inhibitor

Allergic Reaction
2 mins
Cephalosporins
Starts with "Cef-"

Bactericidal

Gram-Positive and Gram-Negative Infections

Allergic Reactions

Thrombophlebitis

Bleeding

Renal Impairment

Avoid IV Calcium with Ceftriaxone

No Alcohol
2 mins
Aztreonam (Azactam)
Monobactam Antibiotic

Bactericidal

Gram-Negative Infections

No Activity on Gram-Positives or Anaerobes

Blood Dyscrasias

Pain at Injection Site

Safe for Penicillin Allergy

Synergistic with Aminoglycosides

Nebulizer Form Available
2 mins
Linezolid (Zyvox)
Oxazolidinone Antibiotic

Binds 23S rRNA of 50S Subunit

Inhibits Protein Synthesis

Gram-Positive Organisms

MRSA

VRE (Vancomycin Resistant Enterococci)

Bone Marrow Suppression

Decreased Platelet Count

Peripheral Neuropathy

Lactic Acidosis

Serotonin Syndrome

Avoid Tyramine Containing Foods
4 mins
Clindamycin
Bacteriostatic

Binds 50S Ribosomal Subunit

Gram-Positive Infections

Anaerobic Infections

Rash

Pseudomembranous Colitis

C. Difficile (Associated Diarrhea)

Arrhythmias

Blood Dyscrasias

Monitor for Diarrhea
3 mins
Vancomycin
Inhibits Bacterial Cell Wall Synthesis

Serious Gram-Positive Infections

Nephrotoxicity

Ototoxicity

Red Man Syndrome

Thrombophlebitis

Culture Samples First

Infuse IV Over 60 Minutes

Take Around the Clock
2 mins
Macrolides
End in "-thromycin"

Bacteriostatic

Alternative for Penicillin Allergy

Respiratory Infections

Pneumonia

QT Prolongation and Sudden Death

C.Diff Overgrowth

GI Distress

Slow IV Infusion
2 mins
Macrolides Side Effects
Diarrhea

Prolonged QT Interval

P450 Inhibitor

Cholestatic Hepatitis

Skin Rash

Eosinophilia
2 mins
Tetracyclines Overview
End in "-cycline"

Bacteriostatic

Infectious Diseases

Acne

Periodontal Disease

Avoid Milk, Antacids, Iron

Sunlight Protection
1 min
Tetracyclines Side Effects
Superinfection

Clostridioides difficile

Discoloration of Teeth

Bone Deformities

Photosensitivity

Children Under 8

Pregnancy
1 min
Aminoglycoside Overview
End in "-mycin"

Gentamicin

Neomycin

Amikacin

Tobramycin

Streptomycin

Bactericidal

Severe Gram Negative Infections

Bowel Surgery Prep
1 min
Aminoglycoside Side Effects
Ototoxicity

Nephrotoxicity

Respiratory Paralysis

Pregnancy

Peak and Trough

Never Mix with Penicillin in Same IV
2 mins
Fluoroquinolones
End in "-floxacin"

Bactericidal

Variety of Infections

GI Distress

Photosensitivity

Achilles Tendon Rupture

Pregnancy

Children

Myasthenia Gravis

Avoid Milk Products or Antacids

Slow IV Infusion
2 mins
Fluoroquinolones Toxicities
Diarrhea

Skin Rash

Headache

Tendon Rupture in Adults

Myalgias in Kids

Damage to Cartilage

Teratogen

QT Prolongation
1 min
Sulfonamides
Bacteriostatic

Urinary Tract Infection

Crystalluria

Photosensitivity

Hemolytic Anemia

Kernicterus

Rash

Sulfa Allergy

Encourage Fluids
2 mins
Sulfonamides Side Effects
Hypersensitivity

Nephrotoxicity

Photosensitivity

Kernicterus in Infants

Displaces Warfarin from Albumin

Hemolysis with G6PD Deficiency
3 mins
Trimethoprim
Bacteriostatic

Inhibits Bacterial Dihydrofolate Reductase

Causes Sequential Block of Folate Synthesis

Used in Combination with Sulfamethoxazole

Combination Used For Recurrent Urinary Tract Infections

Shigella

Salmonella

Pneumocystis Jiroveci Pneumonia

Decrease in Red and White Blood Cells

Alleviated with Leucovorin Rescue
2 mins
Metronidazole
Bactericidal

Forms Free Radical Toxic Metabolites

Damages DNA

Giardia lamblia

Entamoeba Histolytica

Trichomonas

Gardnerella

Anaerobes

Metallic taste

Disulfiram like Reaction with Alcohol
2 mins
Ace Your Nursing (RN) Classes & Exams with Picmonic: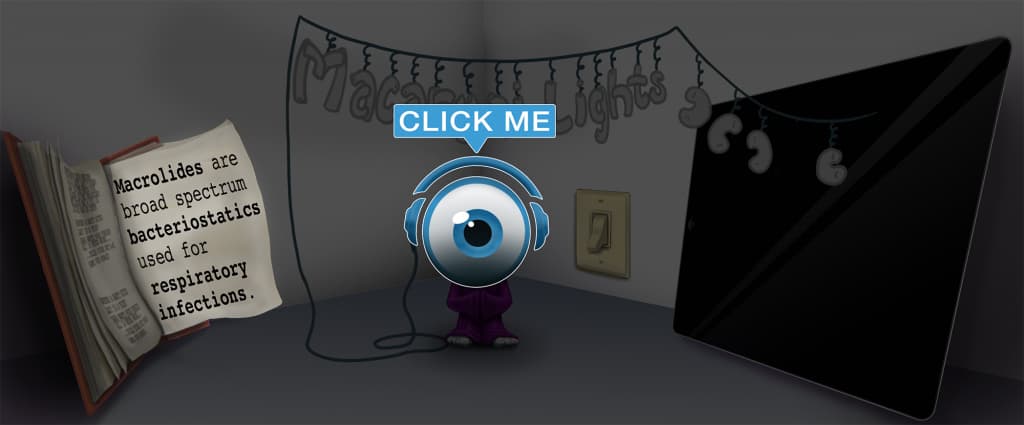 Choose the #1 Nursing (RN) student study app.
Works better than traditional Nursing (RN) flashcards.