Ace Your Brunner & Suddarth's Textbook of Medical-Surgical Nursing, 14th Ed., Hinkle & Cheever Classes and Exams with Picmonic: #1 Visual Mnemonic Study Tool for Nursing (RN) Students
With Picmonic, facts become pictures. We've taken what the science shows - image mnemonics work - but we've boosted the effectiveness by building and associating memorable characters, interesting audio stories, and built-in quizzing. Whether you're studying for your classes or getting ready for a big exam, we're here to help.
Brunner & Suddarth's Textbook of Medical-Surgical Nursing, 14th Ed., Hinkle & Cheever Nursing (RN) School Study Aid
Ibuprofen (Advil, Motrin)
NSAID

COX Inhibitor

General Pain

Fever

Inflammatory Conditions

GI Ulcers

Nephrotoxicity

Rash

Avoid with Alcohol

Risk of Thrombotic Event
1 min
Prednisone (Glucocorticoids)
Glucocorticoid

Inflammatory Conditions

Organ Transplant Rejection

Cataracts and Glaucoma

Cushing's Syndrome

Osteoporosis

Immunosuppression

Hyperglycemia

Ulcers

Adrenal Insufficiency

Taper Gradually
1 min
Fluoroquinolones
End in "-floxacin"

Bactericidal

Variety of Infections

GI Distress

Photosensitivity

Achilles Tendon Rupture

Pregnancy

Children

Myasthenia Gravis

Avoid Milk Products or Antacids

Slow IV Infusion
1 min
Macrolides
End in "-thromycin"

Bacteriostatic

Alternative for Penicillin Allergy

Respiratory Infections

Pneumonia

QT Prolongation and Sudden Death

C.Diff Overgrowth

GI Distress

Slow IV Infusion
1 min
Penicillin
Weakens Cell Wall

Gram-Positive Infections

Prophylaxis

Pain at IM Injection Site

Allergic Reaction

Skin Tests

Allergy ID

Medication Education
1 min
Ace Your Nursing (RN) Classes & Exams with Picmonic: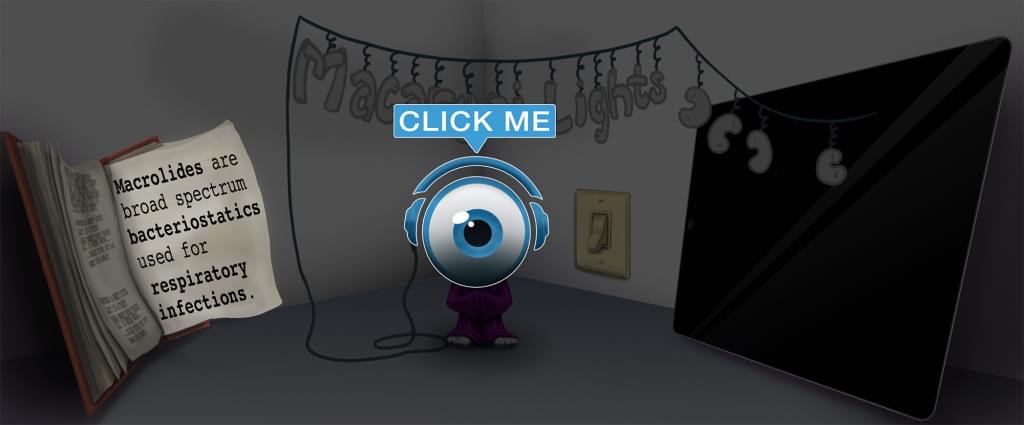 Choose the #1 Nursing (RN) student study app.
Works better than traditional Nursing (RN) flashcards.