Ace Your First Aid for the USMLE Step 2 CK, 9th Ed Classes and Exams with Picmonic: #1 Visual Mnemonic Study Tool for Medical (MD/DO) Students
With Picmonic, facts become pictures. We've taken what the science shows - image mnemonics work - but we've boosted the effectiveness by building and associating memorable characters, interesting audio stories, and built-in quizzing. Whether you're studying for your classes or getting ready for a big exam, we're here to help.
First Aid for the USMLE Step 2 CK, 9th Ed | Medical (MD/DO) School Study Aid
Haemophilus ducreyi
Gram-Negative

Coccobacillus

Pleomorphic

Parallel Short Chains

School of Fish Appearance on Gram Stain

Chancroid

Painful Genital Ulcer

Buboes

Azithromycin

Ceftriaxone
2 mins
Herpes Simplex Virus (HSV)
Enveloped

Double Stranded DNA

Linear

Type 1 HSV

Gingivostomatitis

Keratoconjunctivitis

Encephalitis of Temporal Lobes

Latent in Trigeminal Ganglia

Type 2 HSV

Genital Vesicles

Neonatal Herpes

TORCHES

Latent in Sacral Ganglia

Tzanck Test

Multinucleated Giant Cells

Cowdry A Inclusions

Acyclovir
2 mins
Human Papillomavirus (HPV)
Non-enveloped

Circular

Double Stranded DNA

Warts 1, 2, 6, 11

Condyloma acuminata

Type 16, 18

Cervical Carcinoma

Penile Carcinoma

AIDS/Immunocompromised

Worsened by Smoking

Koilocytic change in squamous epithelium

Pyknotic Nuclei Surrounded by Clear Halo

Vaccine Available
4 mins
Klebsiella Characteristics
Gram-Negative

Bacilli

Oxidase-Negative

Intestinal Flora

Antiphagocytic Virulence Factor

Polysaccharide Capsule

Positive Quellung Reaction

Mucoid Colonies

Urease-Positive

Fast Lactose Fermenter

Pink on MacConkey Agar
2 mins
Klebsiella Disease
Aspiration Pneumonia

Alcoholics

Diabetics

Red Currant Jelly Sputum

Lung Abscess

Nosocomial Urinary Tract Infection
2 mins
Syphilis
Treponema pallidum

Spirochete with characteristic motility

Painless chancre

Condylomata lata

Generalized lymphadenopathy

Rash on palms and soles

Aortitis

Gummas

Neurosyphilis

Argyll Robertson pupils

Vasa vasorum

Tabes dorsalis

Penicillin

Jarisch-Herxheimer reaction
2 mins
Ace Your Medical (MD/DO) Classes & Exams with Picmonic: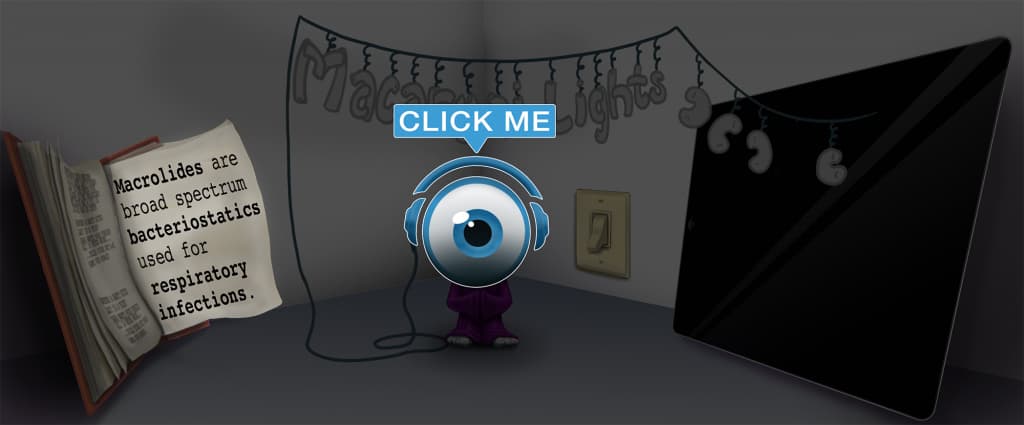 Choose the #1 Medical (MD/DO) student study app.
Works better than traditional Medical (MD/DO) flashcards.