Ace Your First Aid for the USMLE Step 2 CK, 9th Ed Classes and Exams with Picmonic: #1 Visual Mnemonic Study Tool for Medical (MD/DO) Students
With Picmonic, facts become pictures. We've taken what the science shows - image mnemonics work - but we've boosted the effectiveness by building and associating memorable characters, interesting audio stories, and built-in quizzing. Whether you're studying for your classes or getting ready for a big exam, we're here to help.
First Aid for the USMLE Step 2 CK, 9th Ed | Medical (MD/DO) School Study Aid
Chlamydia Characteristics
Cannot Make ATP

Elementary body infects

Intraepithelial

Reticulate Body Replicates

Cell Wall Lacks Muramic Acid

Giemsa Stain

Inclusion Bodies

Azithromycin (Preferred)

Doxycycline
2 mins
Chlamydia trachomatis
A to C

Trachoma

Follicular Conjunctivitis

Blindness

Africa

L1 to 3

Lymphogranuloma venereum

Buboes

Genital Ulcer

D to K

Urethritis and PID

Neonatal Pneumonia

Staccato Cough

Neonatal Conjunctivitis
2 mins
Toxoplasma gondii
Protozoa

Cysts in meat or cat feces

Brain Abscess in HIV Patients

Ring-enhancing brain lesions

Crosses placenta in pregnant women

Congenital TORCH infection

Pyrimethamine

Sulfadiazine
2 mins
Trimethoprim
Bacteriostatic

Inhibits Bacterial Dihydrofolate Reductase

Causes Sequential Block of Folate Synthesis

Used in Combination with Sulfamethoxazole

Combination Used For Recurrent Urinary Tract Infections

Shigella

Salmonella

Pneumocystis Jiroveci Pneumonia

Decrease in Red and White Blood Cells

Alleviated with Leucovorin Rescue
2 mins
Ace Your Medical (MD/DO) Classes & Exams with Picmonic: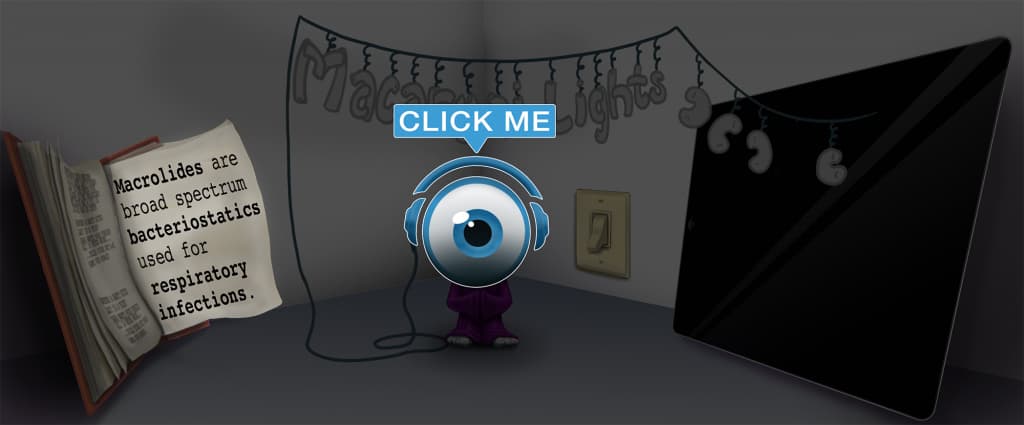 Choose the #1 Medical (MD/DO) student study app.
Works better than traditional Medical (MD/DO) flashcards.