Ace Your First Aid for the USMLE Step 2 CK, 9th Ed Classes and Exams with Picmonic: #1 Visual Mnemonic Study Tool for Medical (MD/DO) Students
With Picmonic, facts become pictures. We've taken what the science shows - image mnemonics work - but we've boosted the effectiveness by building and associating memorable characters, interesting audio stories, and built-in quizzing. Whether you're studying for your classes or getting ready for a big exam, we're here to help.
First Aid for the USMLE Step 2 CK, 9th Ed | Medical (MD/DO) School Study Aid
Clostridium perfringens
Gram-Positive

Bacillus

Anaerobe

Spore-Forming

Alpha Toxin Lecithinase

Phospholipase

Heat Labile Enterotoxin

Myonecrosis

Gas Gangrene

Food Poisoning and Diarrhea

Hyperbaric O2 Chamber
2 mins
E. coli Overview
Gram-Negative

Bacillus

Purple Colony with Metallic Green Sheen

Lactose-Fermenting

Pink on MacConkey Agar

Diarrhea

Lipid A Septic Shock

P Pili Pyelonephritis and Cystitis

K Capsule Neonatal Meningitis

K Capsule Pneumonia

H Antigen Flagella
2 mins
Streptococcus pyogenes Characteristics
Group A Streptococci (GAS)

Gram-Positive

Cocci

Beta-Hemolytic

Catalase-Negative

Bacitracin-Sensitive

Hyaluronic Acid Capsule

Streptolysin O

DNase

Streptokinase

Exotoxin A

Pyrrolidonyl Arylamidase (PYR) Positive
2 mins
Streptococcus Pyogenes Disease
Pyogenic

Pyogenic Pharyngitis

Impetigo

Cellulitis

Toxigenic

Toxic Shock-Like Syndrome

Scarlet Fever

Sandpaper Rash

Strawberry Tongue

Immunologic

Rheumatic Fever

Antibodies to M Protein

Acute Glomerulonephritis (Post Streptococcal Glomerulonephritis)
2 mins
Ace Your Medical (MD/DO) Classes & Exams with Picmonic: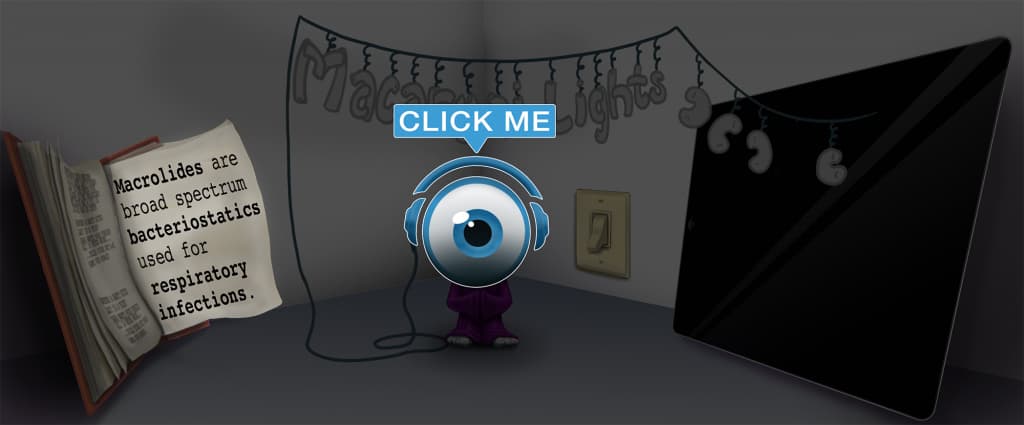 Choose the #1 Medical (MD/DO) student study app.
Works better than traditional Medical (MD/DO) flashcards.