What is Picmonic?
Picmonic turns important facts you need to know into pictures and stories you'll never forget.
Successful students start using Picmonic from the beginning of medical school. By mastering material early in your journey, review for class exams and board exams is easier, and scores are higher. Our mnemonic and visual learning platform for med students makes learning more effective and efficient. Picmonic is here for you from day one through your licensing exams and into clinical practice.

Access to Picmonic for Medicine includes:
• 1,800+ Picmonics covering 21,000 need to know facts.
• Quizzing with 21,000 multiple choice questions.
• Daily Quiz with Spaced Repetition (Auto-generated daily queue of study topics).
• Personal Dashboard with customized study recommendations.
• The ability to add facts and create your own Picmonics.
• The ability to create and share personalized playlists.
• Web, iOS, and Android mobile apps.
• Access study guides, webinar videos, infographics and more.
Osmosis: Your key to ending impostor syndrome in med school
If your lectures are going over your head…
If you're falling behind in your coursework…
If you're just memorizing facts instead of truly understanding the material…
It's not because you aren't "smart enough" to become a physician. Or, that you're not working hard enough.
It's actually because your studying methods aren't optimized for efficiency and effectiveness.
Enter Osmosis.
It's the all-in-one learning platform where you can go from overwhelmed and insecure to confident in your knowledge and ability. Here's how Osmosis taps into your med student brain in unique ways:
• Get through more material faster.
2,000+ expert-reviewed videos can condense a 1-hour lecture into just 10 minutes.
• Truly understand complex topics.
16,000+ flashcards help you identify knowledge gaps and solidify what you're learning.
• Avoid information overload.
Printable High-Yield Notes are quick, done-for-you summaries that make coursework more manageable.
• Stop exam stress.
7,300+ USMLE® Step 1- and Step 2-style case questions with detailed answer explanations help you walk into your exams knowing what to expect.
• Maximize your learning potential.
Osmosis's top-rated mobile app makes studying instantly accessible, anytime, anywhere.
When you use Osmosis to simplify and streamline your studying, you'll finally feel like you're reaching your full potential, and you'll stop second-guessing your worth as a med student.
Start getting control of your time, your grades, and your future—in minutes!
Osmosis Picmonic Integrations
When using Osmosis.org:
Supplement your studies on the Osmosis platform with high yield Picmonics for anything you're struggling to remember.
Now, 500+ Picmonic Videos are playable directly on Osmosis (with more still to come)! These videos are just 2-3 minutes each and even come with a Rapid Review Quiz.
Osmosis intelligently recommends relevant Picmonics within concepts and course documents. For Example:
You have a lecture on Tay-Sachs disease today. Osmosis "reads" your lecture and automatically recommends a Picmonic describing the pathophysiology, signs and complications, and diagnosis of Tay-Sachs disease. Just click to Play and Quiz:


When using Picmonic.com:

Supplement your studies on the Picmonic platform with intelligently recommended Osmosis content. You'll find Osmosis recommendations along with direct links to Osmosis within Picmonic's Community Resources section of the fact sidebar: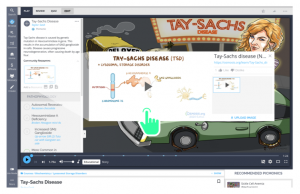 (Visited 4,751 times, 3 visits today)