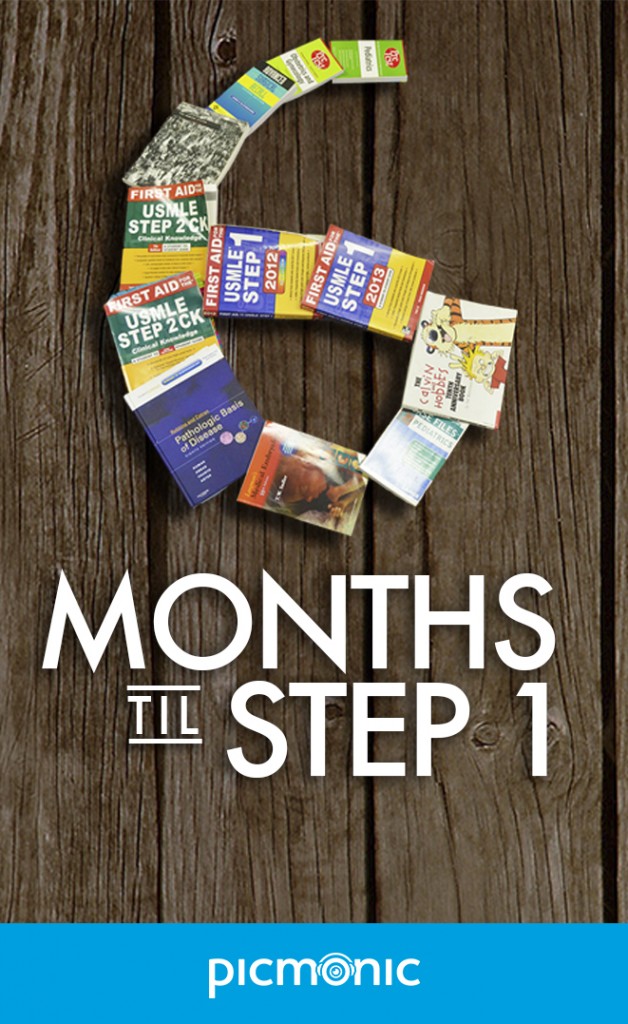 USMLE Step 1 is only 6 months away! How do I study for the USMLE Step 1 exam in 6 months, do you ask? It sounds crazy, but the Step 1 exam is going to be here before you know it. We know you're stressed, tired, and studying your days, nights, and weekends away, but you can do this! We've put together 6 Step Prep habits you should be starting now to get you in the mindset for achieving ultimate USMLE Step 1 success, including a 6 month Step 1 study plan.
The Step 1 exam will move to pass fail scoring system no earlier than 2022, so second years (MS2's), nailing this all-important exam and getting a great score in 2021 is paramount. Therefore, it is important that you make the best use of your time to create a schedule and prepare to study as effectively and efficiently as possible.
If you are wondering when to start studying, or the best month to take the USMLE Step 1 exam, read "How to Operate at your Best in Med School" written by Dr. Chris Tenore.
1. Assess your level of understanding on USMLE Step 1 content.
Get a baseline of what you already know vs. what you will be tested on. Take practice tests and run through question banks. Once you understand your strengths and weaknesses, focus on what you don't know. Study. Then assess your level of understanding again. Wash, rinse, and repeat. 
To create a USMLE Step 1 study schedule for 6 months, our 6 months to Step Workbook can guide you. 
What if your Step 1 preparation timetable is less than 6 months? Whether you have 5 months, 4 months to go, you'll need a plan. You can use Picmonic's new Study Scheduler to help you plan your overall study pace, given the time that you have to prepare. Even a Step 1 study schedule for 3 months is better than none at all!
2. Find & keep your study sanctuary for studying only.
Is it the library? The lounge? Wherever it is, keep it for studying only. Not Facebooking, not Tindering. Keep it free of all distractions. Seriously. Stop swiping right. 
No internet? No problem. With Picmonic's mobile app, you can study hundreds of hi-yield Step 1 med school topics in "Offline mode" and make the most of your time by studying anytime, anywhere.
3. Get on a daily schedule and stick to it.
Sleep, exercise, studying etc. Create a daily schedule and get in the habit of sticking to it. Once it's time to hunker down and only study for the USMLE Step 1 (dedicated period), you'll have already trained your body and mind to be able to easily focus on command. 
4. Stay Fit. Exercise regularly.
On top of the many benefits of being in shape, physical exercise is a great way to release stress and bring needed energy to your already overworked body. Coffee and Red Bull can only do so much. Turn exercise time into study time with Picmonic's mobile app for continuous play of audio in "gym mode" (no internet required).
5. Eat healthier foods.
This is one of our favorite hacks. Skip out on the junk food and avoid all things that you attach to the term "food coma". It's called a food coma for a reason! Fill your body with energy boosting, nutritional brain food. And stop eating out! You will eat healthier and save money. For more tips and hacks, check out our blog on 10 Med School Hacks for Fueling your Brain.
6. Get enough sleep.
Sometimes this sounds like a joke. Sleep vs. Study. But what if you could Sleep your Way to Getting the Best Best Score?  Your brain needs recovery time; give it 7 to 8 hours at least. Zzzzzzzzz! If you haven't already established a sufficient sleep routine, even if you only have 1 month to go, create a daily schedule that allows you to get enough rest every 24 hours. You'll study more effectively and retain more information for this critically important exam.
7. Get Picmonic and start USMLE Step 1 prep early.
Okay, well I know this blog is titled 6 Step Prep habits, but we would be doing a disservice if we didn't mention this: The #1 comment we receive from med students is that they wish they had started with Picmonic's resources earlier.  
If you're a visual learner or just struggling with hard-to-learn topics such as the glycogen or lysosomal diseases, Picmonic's research proven study aids can come to your rescue and help you remember what you study 331% longer. If you need a more effective study resource for Pharmacology or Pathology, give Picmonic picture mnemonics with spaced repetition a try and boost your test scores. Med students enjoy using Picmonic for Medicine's engaging, wacky and memorable study materials to get 100% ready to take on the beast that is Step 1!
For more tips for your journey leading up to the exam, watch our webinar Mastering Medicine: Q&A w/ Dr. Ibbad Yousuf – USMLE Step 1 Test Day; 5 Things You Need To Know
Dr. Yousuf discusses how to maximize performance on exam day in these in these key areas:
1) Wellness
2) Peak Week
3) Test Day Logistics
4) Stamina
5) Key Tools

What Your Peers are Saying
Still not convinced? Picmonic is backed by thousands of students who attribute their success on USMLE Step 1 to studying with Picmonic. Take a look at what some of our users are saying about Picmonic for Medicine:
"Picmonic is cash money! I have used it since it first came out in all my medical school classes. Thanks to Picmonic, I scored a 253 on step 1. "
-Phil, Indiana University School of Medicine
"Biochem was my worst subject in school. Turns out biochem was one of my best subjects on the real thing, and Picmonic was huge for that. 243 [on Step 1]! Thanks Picmonic!"
-Daniel, Avalon University
"Just got my Step 1 score back and it's a 238! Holy crap. Thank you Picmonic!"
-Alyce, Texas A&M Health Science Center College of Medicine
"I cannot emphasize how much Picmonic has helped me succeed in medical school. I am able to study for fewer hours and get better grades. 241 [on Step 1]!"
– Maggie, Louisiana State University Health
P.s. To help you create a Usmle Step 1 6 month study schedule, try our new Study Scheduler!
(Visited 1,239 times, 7 visits today)